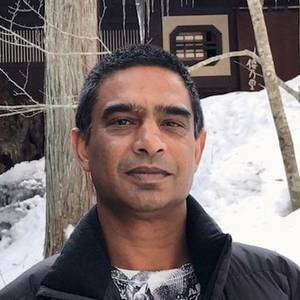 Almas Khan
Almas Khan is one of our regular trek leaders at The Mountain Company and has worked with us since 2009. Almas has completed Lunana Snowman trek in Bhutan ten times and is also an authority on the Indian Himalaya having trekked and climbed in most regions.
After completing a bachelors in commerce Almas soon realized the office held no attraction. He made an unlikely career choice- first as climbing instructor, and for the past 25 years has been leading treks and exploratory expeditions in the Indian Himalaya, Nepal & Bhutan.
Since his first visit to Bhutan in 1995  Almas has developed a true understanding of the country. His love for Bhutan's wild mountain trails, culture and people has seen him visit the Kingdom twenty times to lead many treks including his personal favorite the Lunana Snowman. Almas has completed Lunana Snowman trek ten times including both Bumthang and Nikka Chu exit trails from Lunana, his in country knowledge and leadership have contributed to our 100% success Snowman groups completing this trek.
Almas is also an authority on the Indian Himalaya and has trekked and climbed most regions.  He has been involved with the writing of trekking guide books and route making. In 2003 he accompanied Australian Author Garry Weare on his epic trek starting from Gomukh, the source of the Ganges for the book "A Long Walk In The Himalaya".
Almas has led technical treks and climbs including to Longstaff Col, Trails Pass, Shalang Dhura in the Kumaon Himalaya, Stok Kangri, the second summit of Kangyatse in Ladakh plus Mera Peak and Dhaulagiri Circuit and Dhampus Peak for The Mountain Company in Nepal. In Summer 2018, 2017,  2016, 2015 and 2014, Almas led our Ladakh Sky Trail a stunning route he developed around his favourite areas in this unique region. He is looking forward to returning in 2020 to lead this trek again.
In Nepal, Almas has led Dhaulagiri Circuit, Kanchenjunga Circuit,  Mera Peak and Upper Dolpo to Jomsom GHT and looks forward to leading our Naar to Mustang GHT trek in October 2020.
His life's work throughout the Himalaya has been driven by a deep respect for mountain people and the humbling effect of the high mountains. Almas specialises in remote, logistically challenging treks well away from the busy trails. He has a cool head for logistics, and forward planning. 
When at home In Tasmania he leader in the SES, local emergency service which has seen him deployed for bushfires, cyclones, floods and road crashes. He is a member of Search and Rescue, which involves multi day searches in Tasmania's rugged wilderness. In addition to these departments he is a volunteer fire fighter. His 10 plus years in disaster management gives him a unique skill set so valuable in the field. If you have any doubts you may not capable of a multi week Himalayan trek, Almas will inspire and encourage you to safely complete one, as he has done for thousands of clients.
We proud to have had Almas on board leading groups for us over the past 9 years. His broad experience in the field is a true asset. He is qualified in Wilderness first aid, and holds a pilot's license.
Show more
Show less
Getting to know Almas Khan