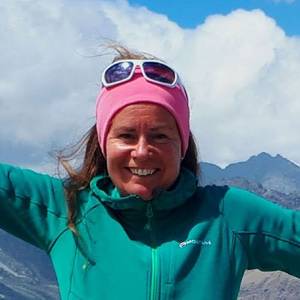 Jill Pinkerton
Over the last 15 years Jill has successfully led and been part of many expeditions to the Himalayas, Africa, Russia, South America and Europe.
"I am not IN the mountains, the mountains are IN me" ( John Muir) and "The Mountains are calling and I must go....."
The above two famous quotes basically sum up my life, basically from a career point of view and from a personal love of the great outdoors so much so that the 2nd one is on the wall in my kitchen!!
Jill has been qualified Mountain Leader/Youth worker for 24 years now leading groups adults UK/Europe/worldwide
Jill was an avid Ultra runner, completing in many big events both in UK and the Alps, however now when not walking the hills, Jill is riding up and down them on road bike in Lakes and Europe. Jill Loves HILLS....and has spent the last 6 years leading groups across Europe (Mallorca/Gran Canaria/Tenerife/La Palma/La Gomera).
In Nepal, Jill has led groups on Dhaulagiri Circuit; Ama Dablam Base Camp, Kopra and Mahure Ridge and Kanchenjunga Circuit. In 2002 Jill co led an expedition to climb Mount Everest following North Ridge route from the Tibet side.
Show more
Show less
Getting to know Jill Pinkerton