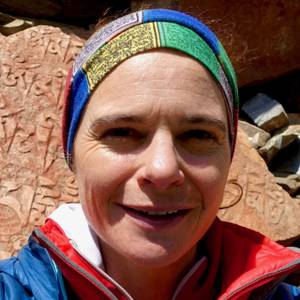 Jo Clark
Jo's love of mountains has taken her around the globe. She has trekked and climbed extensively in Europe, Asia, America, South America, Africa, New Zealand and Australia and started leading expeditions internationally in 2008.
Jo has climbed a number of peaks above 6,000m altitude including Denali in Alaska/USA (6,190m), (Huyana Potosi in Bolivia (6,088m), Lobuche East (6,119m) in Nepal, and reached 6,500m altitude on Aconcagua (sacrificing her summit bid due to her involvement in a mountain rescue) and 7,000m on Peak Lenin (having to abandon a summit bid due to unseasonably foul weather). She has successfully guided groups to the top of Kilimanjaro in Africa and Stok Kangri in India, and has led treks at high altitude in Peru and the Himalaya. She has also led groups in places as diverse as Borneo, Ecuador, Vietnam, the USA and the UK.
Jo is a Modern Foreign Language teacher and also works as a Duke of Edinburgh Assessor. She studied for her masters degree in Grenoble in France and speaks French fluently and Spanish conversationally. She is also a TEFL and CELTA instructor, English being her home language.
She holds an IML (International Mountain Leader), ML (Mountain Leader) and taken the training for Single Pitch Award with MLTE (Mountain Leader Training Board) and has completed her Winter Mountain Leader training in January 2017. She holds a current Wilderness First Aid qualification.
Show more
Show less
Getting to know Jo Clark