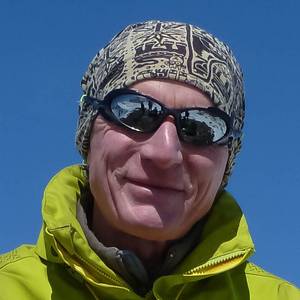 John Eames
John Eames has led many commercial expeditions and treks to the most fascinating and dramatic corners of the globe. John is also a telemark, alpine and Nordic ski instructor with a number of qualifications.
John has lots of experience of travelling and trekking in Pakistan including leading a group on the first complete traverse of the three Passes of Boroghil in Hindu Kush. John has trekked with groups to Concordia, K2 Base Camp and crossed Gondogoro La pass on two previous occasions and has completed Snow Lake and Hispar La three times before. In 2006 John led a commercial expedition to climb Spantik (7,027m) however their summit attempt was thwarted by bad weather. Also in summer of 2006 John co-led a successful expedition to Cathedral Peak (6,200m) above the Hushe Valley.
During the summer of 2005, John led a successful expedition to Cho Oyu, the world's 5th highest peak at 8,211m, getting himself and four clients to the summit on a beautiful day in September. John has also led a group up Lhakpa Ri (7045m), a beautiful outlier of Everest on the Tibet side.
In Nepal John has led numerous treks and trekking peaks including the Annapurna Circuit (twice) with ascents of the 6000m+ Chulu East, Paldor (5896m) (twice!) in the rarely visited Ganesh Himal, Langtang, the crossing of the dramatic Tesi Lapcha from Beding to Namche Bazaar with an ascent of Ramdung Go (5925m), several visits to the Khumbu including crossings of the various high passes and ascents of Lobuche East, Pokalde and Island Peak, a number of ascents of Mera Peak and 3 crossings of the stunning Amphu Labsta pass. In 2016 John led The Mountain Company's 'Makalu to Everest GHT' successfully crossing both the Sherpani and West Col but had to 'bale out' for a number of reasons and the group exited over the Mera La to Lukla … an excellent itinerary anyway!
John has also led a climbing trip to the wonderful Cordillera Real of Bolivia successfully climbing 4 peaks, including the beautiful Pequeno Alpamayo (5400m), the popular Huayna Potosi (6094m) and the huge mass of Illimani (6462m).
Elsewhere John has led a group up Kilimanjaro and also led a number of trekking and climbing trips in Ladakh with first ascents of trekking peaks over 6000m with client groups accessed form the Nubra Valley – magic! During the summer 2012 he was in Ladakh working on Stok Kangri (6,200m) and then went on to climb Lungser Kangri (6,666m). John has been on expedition to Mongolia's Altai Mountains twice and both times was successful with summits of Mount Khuiten, Mongolia's highest mountain. John has also led successful ski expedition to Mustagh Ata (7546m) in Sinkiang.
John is owner of The Telemark Ski Company and is a telemark, alpine and Nordic ski instructor with a number of qualifications including British Association of Snowsports Instructors (BASI) National Ski Teacher (Nordic), Telemark Teacher Level 3 (ISIA) and BASI Alpine Instructor Level 2 as well as being a member of the International Ski Instructors Association. John also works as a Telemark trainer for BASI.
And when John is not out trekking or skiing he likes to spend time enjoying being close to the hills in North Wales, rock climbing and walking in the area.
Show more
Show less
Getting to know John Eames