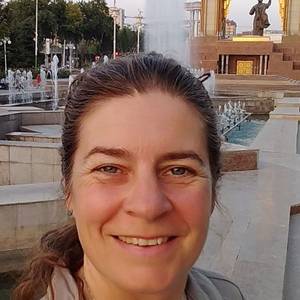 Natalie Wilson
Natalie, known as Nat, regularly leads treks all over the globe, favouring cold and high places as well as the wild spaces closer to home. Nat first visited Nepal in 2009 and since then it has become her favourite trekking destination.
To date she has led Kanchenjunga Circuit, Dhaulagiri Circuit, Everest region including trips to Island Peak and Mera Peak. She has also leads treks in other areas of world including Mongolia, India, Bolivia, Patagonia, Ecuador, Vietnam, Morocco, China and many more.
Nat grew up in Lancashire (UK) and spent numerous childhood holidays up the road in the Lake District. That is where her love for the outdoors started but it took many years and a number of different careers, including teaching English overseas, managing bands and youth working for over a decade, before she realised that she needed to turn her passion for the outdoors into her profession.
Nat is a qualified summer and winter mountain leader and an accredited practitioner with the Institute for Outdoor learning. She has also attended two day training in Wilderness First Aid.
Show more
Show less
Getting to know Natalie Wilson