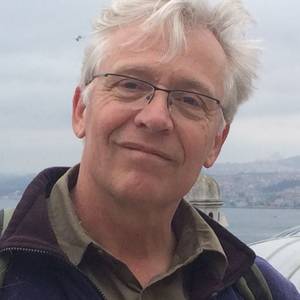 Paul Burditt
In December 2015, Paul took his wife and young daughters on a camping trek along the Milke Dande in Eastern Nepal – he wanted to share his passion for mountains and the people of the Himalaya with his family; as well as to bring business to the country after the devastating earthquake that spring. 
A planned personal trip to Nepal in spring 2020 to trek the Arun Valley postponed because of the Coronavirus pandemic; this was particularly sad as Paul was hoping to meet up with TMC local trekking staff in their village.  Paul is keen to extend his deep knowledge of Nepal by leading trips to the far west of the country. 
In 2013 Paul led the Lunana Snowman trek in Bhutan; in what is believed to be the only successful traverse that autumn given the vagaries of the weather that year.  This was a long held ambition given his interest in Buddhist culture which had been sparked over 30 years previously when trekking and staying in monasteries in Ladakh after leaving school.  He is keen to get back to Bhutan to see Gangkar Punsum which remained hidden behind cloud thanks to cyclone Phailin last time.   
Paul's experience extends well beyond the Nepal Himalaya – he has visited the Karakorum twice, including leadership of the Snow Lake trek.  A continent apart – he has trekked widely across the Andes including Bolivia (5 months), Peru and Ecuador. In 2019 he walked part of the Lebanon mountain trail, starting in the north just by the Syrian border.   
Show more
Show less
Getting to know Paul Burditt