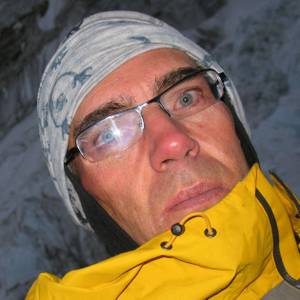 Robert Mads Anderson
Robert has guided teams successfully to the summits of Everest and Makalu over the course of 16 Himalayan expeditions.
Robert has led teams on peaks on all the seven continents, from pioneering a new route on the Kangshung Face of Everest with Stephen Venables, to flying in a Russian biplane to the North Pole. What he most enjoys is exploring and climbing in areas he hasn't been before and sharing that adventure with others. When he is not in the hills, he lectures and works with his global sponsors, as well as keeps his audience, spanning 70 countries, updated on news and information from the 7 summits, at www.explore7summits.com
 
Robert's books on climbing include Seven Summits Solo and To Everest via Antarctica, published by Penguin, while Antonovs over the Arctic covers his flight to the North Pole in a Russian biplane. He has just completed his latest book, Nine Lives – Expeditions to Everest, to be published in fall 2020.
In April 2019, Robert co-led with Peter Hillary our high profile trek called In Hillary's Footsteps to Everest Base Camp. This was a unique experience for this group to trek with Robert and the son of Sir Ed. In July 2019, Robert led our K2 Base Camp & Gondogoro La in Pakistan and his group successfully crossed this high pass over to Hushe village.
Show more
Show less
Getting to know Robert Mads Anderson