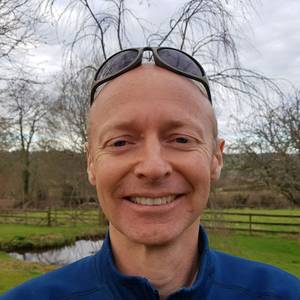 Roland Hunter
Roland is our Managing Director and set up The Mountain Company in 2004. Over the years he has led most of our trips so has first-hand knowledge and experience of the Himalayas and Karakoram. You can connect with Roland on his social media profiles on Facebook and on LinkedIn.
Roland is a Fellow of the Royal Geographical Society ("FRGS") and a member of the Alpine Club & Calgary Mountain Club. In 2001 he climbed to the summit of Mount Everest (8,848m) and in 2009 to the summit of Mount Makalu (8,462m) without supplemental oxygen.

The impetus behind starting The Mountain Company was an expedition Roland led to Broad Peak (Pakistan) in the summer of 2004 where two members of his team got to the true summit at 8,047m.

Over the last nineteen years, Roland has led groups on the majority of The Mountain Company's portfolio of tours, treks, and expeditions. A summary of these trips is as follows:
2022: working in Operations based in Kathmandu for both Spring and Autumn seasons. in September 2019, I continued to do a lot of trail running in the Kathmandu valley and in the South West of England. The highlight was coming in 10th position in the Ultra Tour de Monte Rosa ("UTMR") 100km.
2020 to 2021: during the Covid-19 pandemic I have continued to go trail running in the UK entering ultras and marathons: several marathons on Dartmoor and Exmoor plus The Fox Way ultramarathon near Godalming. 
2017 to 2019: working in Operations based in Kathmandu for both Spring and Autumn seasons. Also your point of contact for pre-trip questions and briefings/ debriefings in Kathmandu for Nepal trips. Have developed an interest in trail running in the UK and the Himalayas. In 2019 ran the Annapurna mountain marathon and Stupa to Stupa ultra marathon in the Kathmandu valley.

2016: based in Kathmandu for both Spring and Autumn seasons. In May visited Pokhara, Kathmandu, and Chitwan on a hotel inspection visit to develop our cultural tours of Nepal. Post Autumn season went on a research and recce tour of Burma (Myanmar).

2015: in April went on a recce trek from Arughat to Ganesh Himal known as the Ruby Valley trek.

2014: in October went on a recce trek from Arun valley to Makalu Base Camp part of Kanchenjunga to Makalu GHT. 

2013: in April visited Bardia National Park in Nepal and also walked Panchase trek near Pokhara part of our Pokhara Panorama trek; in May I was invited by The Great Himalaya project on a familiarisation trek to west Nepal staying at homestays near Simikot and Raling gompa. In October and November led 36-day trek from Kanchenjunga to Makalu along section One of GHT.

2012: in November led Mera Peak Expedition for the seventh time and in December went on a recce trek to set up our Luxury Kathmandu Valley Rim trek.

2011: in December went on a recce trek to Mardi Himal and Kopra Ridge; in November led Mera Peak Expedition; led Lunana Snowman trek in Bhutan for the second time; in August led K2 Base Camp & Gondogoro La in Pakistan, in April/ May completed the crux section of The Great Himalaya Trail from Makalu to Everest GHT crossing Sherpani Pass, West Col and Amphu Laptsa passes. In March visited Morocco for Jebel Sahro trek followed by a winter climb of Mount Toubkal.

2010: in December led a trek to Everest Base Camp for the charity Islamic Relief; in November led Mera Peak expedition (Roland's fifth summit); in October led Dhaulagiri Circuit and in August led K2 Base Camp & Gondogoro La trek; in May led a reconnaissance trek on a section of Great Himalaya Trail ("GHT") from Upper Dolpo to Jomsom; in April led Langtang and Laurebina La trek and in January led a group to the summit of Kilimanjaro following the Rongai route.

2009: summitted Mt Makalu (Nepal) 8,462m using no bottled oxygen or Sherpa support. Take a look at our Blog for the story of our summit day and summit photos. In Autumn he led his 4th successful expedition to Mera Peak then a trek to Everest Base Camp with a charity group.

2008: led Manaslu Circuit, Dhaulagiri Circuit via French Col, K2 Base Camp & Gondogoro La, Lunana Snowman (complete Paro to Bumthang trek), Mera Peak and Charity Challenge to Everest Base Camp.

2007: led K2 Base Camp (twice) and Mera Peak expedition

2006: led Everest North Col (Tibet), Annapurna Circuit, Annapurna Base Camp, Classic Tour of Bhutan, Stok Kangri expedition and Lamarayu trek, K2 Base Camp and Gondogoro La, Kanchenjunga Goecha La, Singalila Ridge, Charity Challenge to Everest Base Camp, Siklis trek and Langtang with Kianjin Gompa

2005: led Mera Peak expedition, Everest High Passes, Sikkim Discovery and Markha Valley.

2004: leader of an international expedition to Broad Peak (8,047m), Pakistan. More on this expedition at Everestnews.com & Explorersweb.com articles

2003: joined an expedition to the south face of Kanchenjunga (8,586m), Nepal.

2001: summited Mount Everest (8,848m) via the northeast ridge from Tibet. More on this expedition

2000: the summit of Kilimanjaro via the Umbwe/western breach route

1992: trekked around Nanda Devi, India (Curzon Trail and Kuari Pass)
Show more
Show less
Getting to know Roland Hunter