Details

Written by Roland Hunter FRGS (Mt Everest and Mt Makalu summitter)
Managing Director & Founder, The Mountain Company
At The Mountain Company, we screen our trekkers for K2 Base Camp & Gondogoro La. This is to check they have the skills and experience to cross this challenging pass. I have crossed Gondogoro La six times with groups since 2006 so I have a good idea of the requirements. During these treks I have seen many underprepared groups crossing Gondogoro La. Some of these trekkers encountered serious issues along the way. This pass is often underestimated.  It is very different in nature to crossing passes on the classic circuit treks in Nepal. Such as Kanchenjunga Circuit, Dhaulagiri Circuit and Manaslu Circuit. Gondogoro La requires technical mountaineering skills. This pass also has significant risks such as rockfall and mudslides.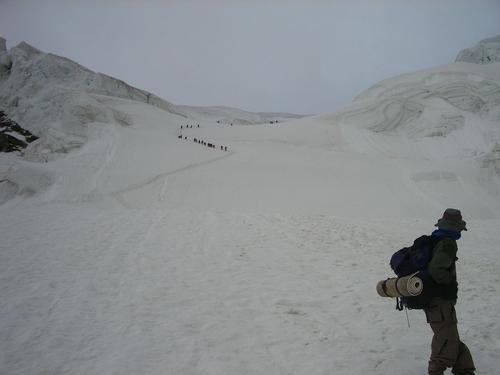 What is the route like for crossing Gondogoro La high pass?
The ascent of Gondogoro La pass is on a snow slope with glacial ice underneath. The route varies year to year although usually the angle is moderate. There is rope fixed for one or two sections. in 2007 there was a glacial surge making the ascent far steeper and a deep crevasse opened up. This made it too hard for trekkers so no groups were able to cross over the pass in that year.
The far harder part of crossing Gondogoro La is the descent from the summit of the pass at an elevation of 5,560m. This side of the pass has steep slopes of loose rocky scree. It usually does not have any snow when our trekking groups cross in early August.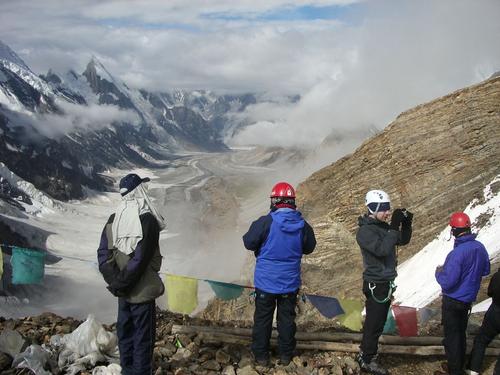 What are the objective risks of crossing Gondogoro La?
There is a risk of rockfall and mudslides on the descent of the Gondogoro La later in the day. It is important that people can move with confidence on this type of terrain. Trekkers must be down to Khuspang camp before the sun warms the slope on the pass. Our groups leave Ali Camp in the early hours of the morning. They arrive at top of Gondogoro La at first light. This means that, inshallah, the rocks on the descent slope are still frozen in place. 
After descending the pass you will find a trail. This takes you along the lateral moraine to Khuspang campsite. On next day we descend on a trail, that includes several river crossings, to the campsite at Shaisho. From here you follow an easy trail to the village of Hushe. This is the road head for the jeep drive back to Skardu.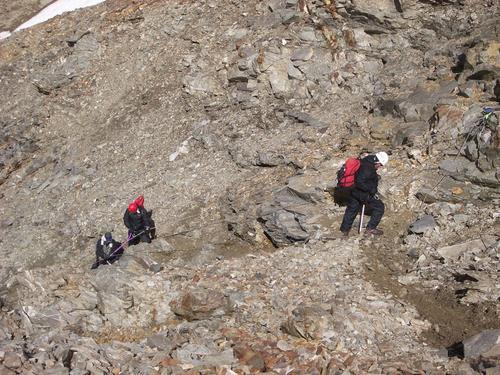 What experience do I need to cross Gondogoro La on K2 Base Camp?
The key for a safe crossing of Gondogoro La is having the right skills, experience and equipment.
The ascent of Gondogoro La requires use of ice axe and crampons plus a jumar for ascending the fixed rope. The climb follows a moderate angled snow slope to the summit of Gondogoro La. Most groups do not find this too difficult from a technical mountaineering perspective. Having said this, it will be hard physical work given you are climbing above 5,000m.
The most challenging section is the descent down the Gondogoro La. This requires multi pitch rapels (also known as abseils) at an angle of around 40 to 45 degrees. At this gradient one can walk back down the slope with weight on the feet rather than hanging on the rope. One has to be careful not to kick and knock rocks down to trekkers on the ropes below. Lower down on the slope after three or four rapels the angle eases off.  At this point you can use the rope as a handrail as you walk down the rocky slope.
It is also important for trekkers to have the correct personal gear and equipment. This includes harness, ice axe and crampons. Please take a look at our kit list for
K2 Base Camp & Gondogoro La
(under Practical Information tab).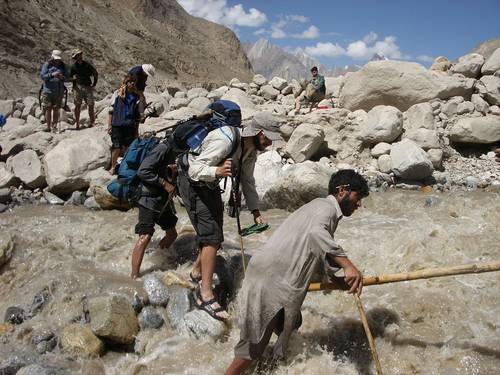 Suitability and training for Gondogoro La pass
K2 Base Camp & Gondogoro La would be suitable if you have previous experience of trekking at high altitude and if you have a high level of fitness. It is important that you also have the mountaineering skills explained above. If not you would need to attend a one week mountaineering course to learn the skills required. 
Or you could consider joining K2 Base Camp & Concordia. This trek does not involve any mountaineering.  The itinerary descends from Concordia by walking back down the Baltoro glacier. Whereas the K2 Base Camp & Gondogoro La group walk from Concordia to Ali Camp.  On the next day they will cross the pass.
Is it worth crossing the Gondogoro La pass?
In a word, yes! There is no doubt that including a crossing of Gondogoro La on K2 Base Camp trek in Pakistan is well worth it. This is a beautiful pass with wonderful views from the summit. You see across to the Karakoram range and on the Hushe side you see the graceful lines of Leila Peak. This is one of the best treks in the world included in the book called Top Treks of the World by Steve Razzetti. To read more about the challenges of K2 Base Camp trek (without doing Gondogoro La) take a look at our Blog article Everest Base Camp in Nepal versus K2 Base Camp in Pakistan.
Please read feedback from our groups on AITO Travellers Reviews for K2 Base Camp & Gondogoro La. I have copied one of the reviews below:
"This trek was brilliant. Walking along glaciers and into the middle of some of the world's most impressive mountains. With K2 majestically towering over them all. Then over the challenging Gondogoro La pass and down the Hushe valley, more alpine in nature, beautiful flowers and colours. A wonderful circuit journey through amazing scenery."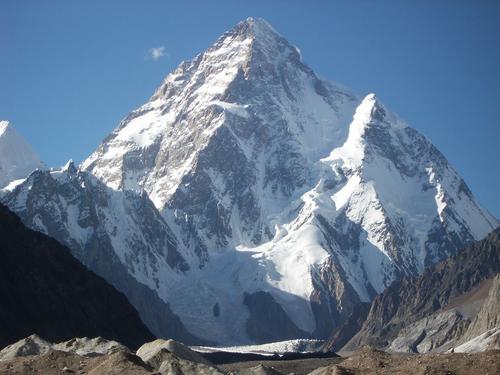 If you have any questions about your suitability for K2 Base Camp & Gondogoro La or about trekking in Pakistan please contact us. We can provide feedback as well as a training plan to help you get ready and prepared.
We organise this trek every year in mid-July, please get in touch with us if you like to join one of our this groups. Trek on!