Details

Written by Roland Hunter FRGS (Mt Everest and Mt Makalu summitter)
Managing Director & Founder, The Mountain Company
The road on Annapurna Circuit in Nepal
I hiked Annapurna Circuit trek around the Annapurna massif in Nepal for the first time in March 2005. Even back then there was some road construction and we had to walk along the road for several sections of the trekking route. Nowadays the road extends from the town of Besisahar up to Manang village. This is only two days walk from Thorung La. On the other side of the pass the road goes all the way up from Beni to Muktinath village. 
In most places the road does not have a hard top so it is more like a jeep track. Only rugged vehicles such as jeeps and buses can handle this challenging drive. In practice there is not much traffic driving on these roads. Having said that it can be dusty and rather unpleasant for trekkers when a vehicle passes by. The road is often blocked from landslides or rock falls. This happens especially during the monsoon season of June to September.

Nepal trekking has changed a lot over the years. As long as you have the right expectations you will have an incredible experience. You still get superb views of the Himalayas when trekking around the Annapurnas.
Recent and future road building in Nepal
With recent changes to the constitution of Nepal there is now a federal government. With decentralisation the Districts have more autonomy to make decisions. There has been a large road building program to connect the 75 District Headquarters.  
Having roads in a mountainous country like Nepal brings economic and societal benefits. The improved access helps the local population get to hospital when sick. It also means that people can travel further afield for jobs and also bring in food and supplies at a lower cost. The bottom line is that trekking in Nepal has to find a way to co-exist with an expanding road network. There will be many more roads constructed in the future throughout the country.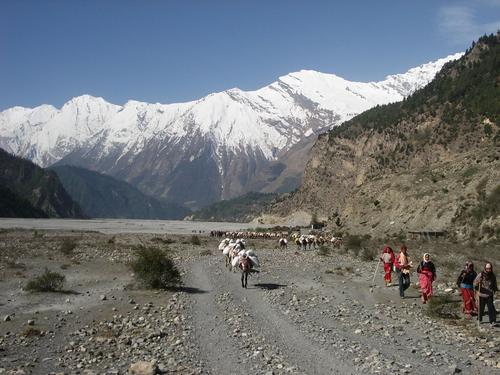 Development of Natural Annapurna Trekking Trails (NATT)
Since I trekked the Annapurna Circuit in 2005 for a number of years most trekkers avoided this trek as they did not want to walk along a jeep track. However this started to change from 2010 with the development of alternative trekking trails away from the road called Natural Annapurna Trekking Trails (NATT). It is encouraging to see a situation like this that can keep both the locals and trekkers happy!
NATT were mapped from existing trails that have been used by many generations of Nepalese villagers. The NATTs have been waymarked by painting colours on rocks in order to make it easier to follow the trails. This has been done by Nepalese trekking guide, Prem Rai, and keen trekker, Andrees de Ruiter. They went on to publish a guidebook called Trekking the Annapurna Circuit by Himalayan Map House. Since then there has been a renaissance of Annapurna Circuit and Half Annapurna Circuit as trekkers have come back to explore this classic circuit trek. 
The Mountain Company has promoted the NATT and in Autumn 2015 we organised a reconnaissance trek for outdoor journalist, Terry Adby. He completed the Annapurna trek using NATTs and wrote articles about his experience.
You can read
"The Return of the Annapurnas"
in online magazine Outdoor Enthusiast (starting on Page 46)
. Plus
BMC The New Way: Trekking Nepal's Annapurnas
.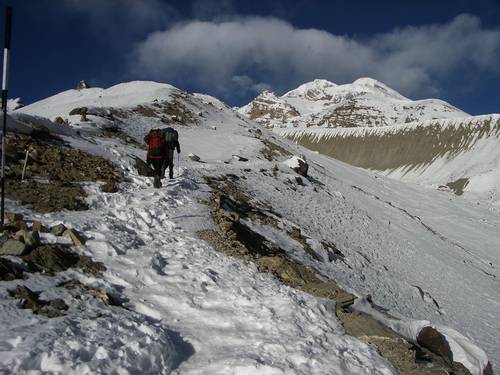 Other roads affecting trekking trails in Annapurna region
There has also been an extensive road building program in the Annapurnas like in the rest of Nepal. There is a road from Nayapul up to Ghandruk village on Annapurna Base Camp trek. There is an alternative hiking trail that avoids the road for most of the way. I walked this trail in December 2018 when inspecting the Ker & Downey lodges. This trek is Annapurna Luxury Lodge. The road did not impact our experience as we followed a trail high above the road.
The key to enjoying a trek in regions with roads is having an experienced trekking guide. They know the area and understand that groups prefer to walk on the village trails. Whereas the local villagers will walk along the road as this is the fastest way of getting from A to B.
We spend a lot of time reviewing our trek itineraries after each season. We make changes when required due to construction of a new road. For some itineraries we drive along the new road and start the trek further up the valley. For example the road head was at the town of Besishar. Now we drive a further three hours up the valley to the village of Jagat. For other itineraries we look at the maps and speak to our Nepalese guides. We find the best alternative trails to follow avoid walking along the road.
Is it still worth trekking in the Annapurnas?
Yes, there is no doubt that trekking Annapurnas is well worth doing. As discussed it is possible to avoid the road in most places due to NATT. Both of these hikes are good options if you are looking for a lodge based trek in Nepal. Other treks to consider in Nepal are Everest Base Camp and Annapurna Base Camp with Poon Hill (also known as Annapurna Sanctuary). The feedback from our Annapurna groups has been positive. You can read our AITO Traveller Reviews for Half Annapurna Circuit. I have copied the review below:
"My wife and I booked a 3 week holiday including a 2 week trek with The Mountain Company. We flew into Kathmandu and had a fantastic time in the mountains throughout. Our experiences in Nepal were amazing and the country is truly beautiful, along with the wonderful people."
Over the last 5 years our bookings for our Nepal treks in the Annapurna region have increased. These days one of the most popular treks is Half Annapurna Circuit. This version is popular as finishes at Jomsom after having crossed the Thorung La. Our itinerary is 17 days from arrival/ departure in Nepal. This is a good option as you cross a high mountain pass with spectacular views in under three weeks.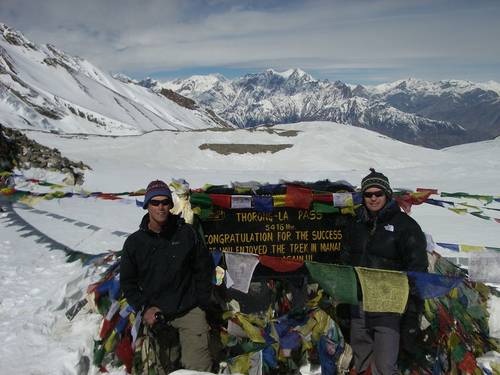 Conclusion
Nepal trekking has evolved over the years with changes in the country. The Annapurna region has adapted with development of NATT. This is a good example for other trekking regions in Nepal to follow. With planning it is still possible to survive and thrive after construction of roads.
I recall having a discussion with a Swiss group about the road versus trekking issue in a teahouse lodge. One of the party reminded us that road construction in Switzerland did not destroy their mountain tourism. In fact it did the opposite! A road network allowed better access into the mountains for walking and mountaineering. Also for many other activities such as ski-ing, paragliding, rafting and camping. This has already happened in Annapurna region with mountain biking and religious pilgrimmages.
For more information about

Half Annapurna Circuit

and

Annapurna Circuit

. Please get in touch with us if you have any questions or like more information. 

Trek on!