Details

Written by Roland Hunter FRGS (Mt Everest and Mt Makalu summitter)
Managing Director & Founder, The Mountain Company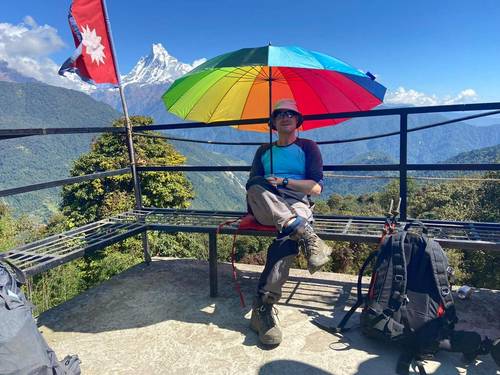 In October 2022 we organised our 18th trek around Dhaulagiri Circuit in Nepal. Our leaders for this group were Ben Walker (UK) and Chandra Rai (Nepal). The assistant guides supporting the group were Bhim, Bal, and Jons Lama. Our cook was Sangram.
The group arrived in Kathmandu on October 2nd. In the afternoon Ben, Chandra, and I gave the group briefing in the gardens of Hotel Shanker. At this point, the sun was shining as the monsoon had already started to wind down towards the end of September. However, for the last week, I had been tracking a cyclonic system that had been developing in the Bay of Bengal….
I discussed the weather forecast during the briefing. At that point, we were expecting moderately heavy rain (and some snow on the passes) for October 6th & 7th. I was optimistic about this group's chances as the system was predicted to clear out by October 8th. It is very risky to walk through the narrow Chonbarden gorge when raining as can cause rockfall. With our itinerary, the plan was to walk through the gorge to Glacier Camp on the 11th so allowing a few days to dry out. In practice, the cyclonic system changed track a day or so before impacting Nepal. There was significantly more precipitation in the Dhaulagiri region. Also, the system stayed around much longer until October 12th.
After the second day of walking on October 5th, Ben called me on the satellite phone. He explained the conditions were very bad with landslides, falling rocks, and fast-flowing streams. We both quickly agreed to call off the trek. It took three days for them to retreat to the town of Beni. I came up with a Plan B walking from Beni up to Mohare Danda and Kopra Ridge. This was a good option as it did not involve driving as it was still risky to drive on the roads. This trail was less prone to mudslides and rockfall. Also, we used teahouse lodges and homestays for this trek for shelter from the rain.

Of course, many other trekking groups in Nepal were impacted by this bad weather as described by the Explorersweb article One Dead, Eight Missing as Nepal Passes Turn Deadly.
Ben sums up his experience leading this group as follows:
"Challenging start, where we had 72 hours solid rain on arrival into Dharapani (Day 3). Took the decision the following night not to continue on the Dhauligiri circuit due to mudslides, potential rock fall & avalanche danger further up the valley. This proved to be wise given the number of slides we encountered on the way back to Beni and deep snow on the higher passes. Four of the group members chose to leave the trip at Beni & the remaining eight walked out via Khopra ridge, where the weather improved the following week. We had some superb views from Mohare Danda, Khopra Danda & Mulde Peak. The group was clearly and understandably disappointed not to achieve the original objective, however for the most part were pleased we'd taken an early pre-emptive decision & looked after the whole team, without significant injury."
You can see where they went on Google Maps for Dhaulagiri Circuit October 2022. This is based on GPS check-ins sent by Ben from the satellite phone. It was reassuring for family and friends to know where they were heading in real-time.
As mentioned we have organised 18 groups on Dhaulagiri Circuit trek since 2005. Out of these groups 15 successfully crossed the high passes to Jomsom. Two unsuccessful groups were as a result of Cyclone Hudhud in October 2014 and the earthquake in April 2015. And of course, the third unsuccessful group was in October 2022 stopped by the unnamed cyclonic system (technically not a full cyclone!).
As per our Blog article, When Is The Best Time To Go Trekking In The Nepal Himalayas? we discuss the pros and cons of Spring v Autumn (Fall) trekking. As mentioned a disadvantage of Autumn is the risk of cyclones. In practice, these are quite rare but seem to be becoming more common over the last decade. In general, Autumn tends to have settled weather with sun and blue skies. Whereas for the Spring season there are often more cloudy days as experienced by our Dhaulagiri Circuit group in April 2022. Yet the amounts of precipitation tend to be lower and rarely prevent groups from crossing the high passes.

I have copied an AITO review received for our October 2022 below:

"An aborted trip to Dhaulagiri hidden valley due to prolonged heavy rain. Roland's team got us out safely and arranged a lovely trip through the Annapurna foothills. We experienced a side of Nepal we would not usually see on a high-mountain adventure - local weddings, backcountry towns, and Gurkha homelands. We reached a high point of 4600m above Kophra ridge with stunning views of the Annapurna and Dhauligiri ranges. Roland is highly knowledgeable about Nepalese trekking. He lives in Nepal during the trekking season working firsthand with his local operators."
You can read our AITO Traveller Reviews received for our Dhaulagiri Circuit to find out feedback from our previous trekkers.

To learn more about this trek's challenges, take a look at our Blog article: How hard is Dhaulagiri Circuit trek in Nepal?
Of course, I understand it is very disappointing for the trekkers to turn back from their goal of walking the Dhaulagiri Circuit. But, of course, safety comes first. We would like to thank the group for their teamwork, support, and sense of humour. It was great that the group got views of Mount Dhaulagiri on their Plan B trek.
The Mountain Company organises Dhaulagiri Circuit trek twice a year in April and October. Please get in touch soon if you like to join one of our departures in 2023.
Trek on!