Details

Written by Roland Hunter FRGS (Mt Everest and Mt Makalu summitter)
Managing Director & Founder, The Mountain Company
Our mission in 2022 was to find out if trekking in the West of Nepal is the Best! In the end, we organised three separate treks this year to the Far West region of Nepal. In the Spring, Ade Summers and Galden Sherpa did a reconnaissance trek from Jumla via Rara Lake to Simikot. You can read how they got along and what they found out in our News article A Remote Trekking Option for Nepal Far West Section of The Great Himalaya Trail.
As explained in this article there was too much snow in April for them to do the very remote trek crossing the Nying La. So in July, we sent Galden Sherpa plus a local guide from Simikot, Tsering Lama, to scout out this trail. This was part of our planning in advance of our Far West Nepal Exploratory GHT group scheduled for November 2022. Galden and Tsering's recce went well and they successfully crossed over Nying La into Limi Valley.

They also walked up the Sakya Khola valley and crossed over the pass heading south to Halji. However, their feedback was that this trail was very risky due to rockfall and landslide areas. This trail was damaged by the 2015 earthquake then heavy monsoons since have washed away the trail. So we decided not to follow this trail from Sakya Khola to Halji with our Far West Nepal Exploratory GHT group in November.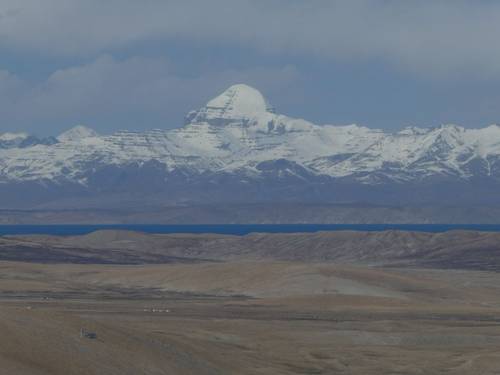 As described in our Trip Report for Dhaulagiri Circuit in October 2022 there was a cyclonic system that impacted Nepal in early October. This storm deposited a large amount of snow on the high passes of West and Central Nepal. By early November we were reasonably confident of crossing Nying La but knew there would be snow left over from the cyclone. If we could not cross Nying La, our Plan B would be to go to the Base Camp used by the 2019 Lachama Khola Expedition (4,348m). A friend of mine, Drew Cook, was on this team and Ade and I met him in Kathmandu in late October to hear more about their trip.
Our Far West Nepal Exploratory GHT team arrived as planned in Kathmandu on November 3rd. On the 4th Ade and I gave our trek briefing in the gardens of Hotel Shanker. On the 5th they flew to Nepalganj and after one night there then flew into Simikot on the morning of the 6th. We had hoped to transport most of the group gear and food into Simikot by jeep. But the heavy rains in early October damaged the new road so we had to send it by air freight. We got most of the gear into Simikot by the 6th however some food arrived a few days later. We sent this with the mules to catch up with the group.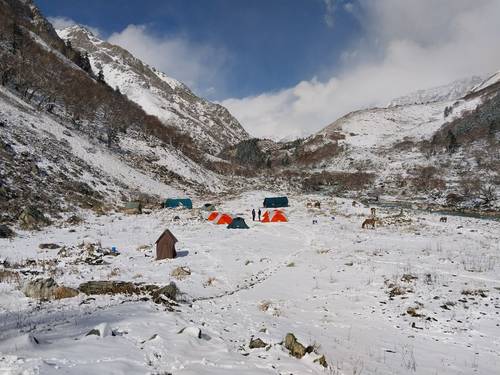 From reviewing the weather forecasts I noticed that a system was moving in from the West. It looked like it might impact our group with some precipitation. On November 9th & 10th when at Phokung campsite (also called Dhyauling) at 3,742m they had a snowfall of 5 to 6cm. It was not a huge amount (as per the forecast) but it was enough to cause issues with the mules on the trail. At this time of the year, snow melts off slowly with the lower temperatures and it is a shady valley.
Unfortunately, it was enough snow to rule out Plan A and Plan B. The recent snow plus the snow left over from the October cyclone meant in practice it would not be possible to cross the Nying pass. It is also would be challenging from a logistics point of view to explore the Lachama Khola valley. After talking to Ade on the satellite phone we made the decision to turn back to Simikot. We would follow Plan C which was crossing Nyalu La at 5,001m on the Limi Valley trek. Making a quick decision at this point meant that this group had enough days to complete this circuit.
Nyalu La pass is located northwest of Simikot. This route follows a jeep track however in practice is more like a wide path. There was no traffic during our trek in November due to snow on Nyalu La and because the border with Tibet (China) to the north was closed (due to the Covid pandemic).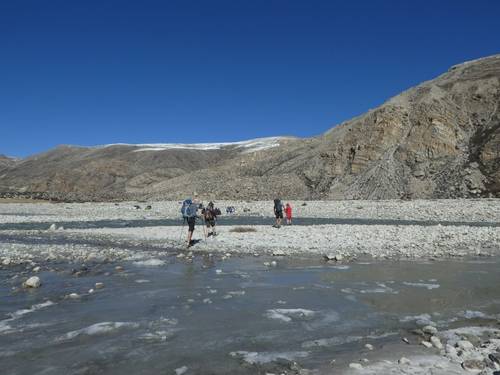 On November 19th, five days after leaving Simikot (for the second time) they arrived at Marjumlaya camp. On the 20th the group walked to the Mount Kailash viewpoint on the border with Tibet (China). This is a 20km return hike back to camp and it takes the whole day. It was a very cold day and very, very windy. Not far from leaving camp, they had to cross a river. They had to break the ice and then use a rope for safety. On the way out the river level was low about ankle deep and only 3 to 4m wide. On the way back the water level was higher between ankle and knee deep however not as cold as in the morning!
The tough day's walk was worth it as they were fortunate to get clear views of Mount Kailash. This is a holy mountain for Buddhists, Bon, Jains, and Hindus. In the foreground is Lake Manasarovar known as the source of the four major Asian rivers. These are the Indus, the Sutlej, the Brahmaputra, and the Karnali which is a tributary of the Ganges.
Afterward, they trekked down the Limi Valley and took a rest day at Halji to explore their Buddhist gompa. This monastery is a place of great beauty and it exudes a sense of peace and tranquility. The visit to Halji gompa was one of the highlights of the trip. You can read more about its architecture in this article Halji Monastery - A Hidden Heritage in North-West Nepal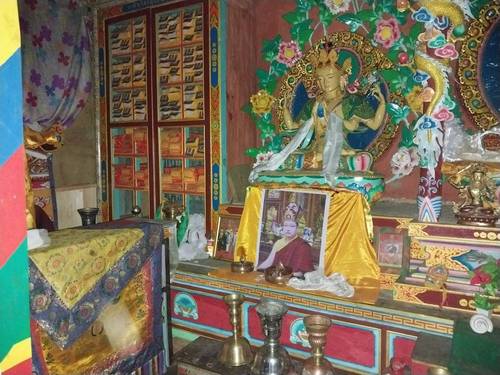 The scenic trail continued through Til and Manapeme before arriving at the border with Tibet (China) at Hilsa. The last day of the trek was over Nara La at 4,560m to Yari. On the next day, they took jeeps back to Simikot.
Along the way, this group regularly saw Snow Leopard pug marks in the fresh snow. They also saw blue sheep on several occasions.
You can see where this group went from daily GPS check ins on Google Maps at Far West Nepal Exploratory GHT November 2022
Ade sums up in his own words his experience leading this trek:
"An amazing trip to the Far West of Nepal. Amazing culture and amazing mountains. Highlights were seeing Mount Kailash and Lake Manasarovar but closely followed by the visit to Halji monastery a 900-year-old monastery with a fantastic prayer room. Exploring this remote area of Nepal was a joy, meeting remote local communities and trekking through the wild rugged valleys gave us a great sense of adventure and the true meaning of adventure travel. This revised itinerary worked well and the group loved the fact that we adapted and changed and we still had a great trek, after all this is an exploratory trek."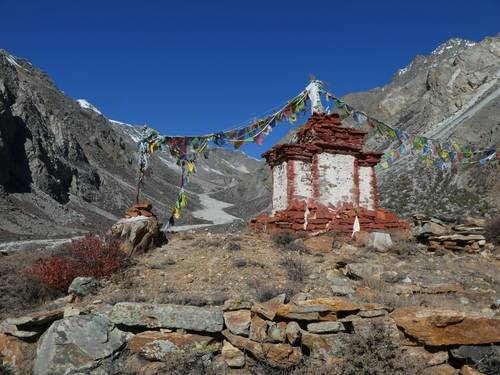 In summary, in spite of not being able to cross Nying La, the group enjoyed trekking on the trail over Nyalu La and into Limi Valley. We learned a lot from this exploratory trek about operating treks in the Far West of Nepal. This region is so far from Kathmandu and there are logistical challenges. However of course that is why so few trekking groups make it out this way. Due to its remoteness, it is a more expensive trek to organise. This is due to a lot of internal flights (Kathmandu - Neplaganj - Simikot - Nepalganj - Kathmandu). It is also a long way to get group gear and the trek crew into Simikot from Kathmandu. However in spite of these challenges and extra costs, Far West is an incredible place to trek with virtually no other trekkers.
The snowfall in early October followed by the smaller snowfall in early November was an unusual weather pattern. That being said, it is likely to happen from time to time and, if so, it is unlikely that the snow will melt off until Spring time. It is also very cold for the group and trek crew in November especially when windy conditions.

I have had in-depth discussions with Ade about the weather, and we both feel that the best conditions could be from mid-May into June. It is warmer during these months and most of the winter snow would have melted off the high passes. In fact, this is timing that has worked well for our Upper Dolpo trekking groups in Mid-West Nepal. Hopefully, we can complete the trek before the monsoon rolls in from the East. Heavy rain would cause difficulties with river crossings and internal flights. Ade and I agree that there is no "perfect" month to trek in the Far West. There are a number of pros and cons of each month plus it is likely that it will depend on the weather and conditions from year to year. In dryer years with no cyclones, November should work well like for our Kanchenjunga Circuit trek that we have organised many times at this time of year.

I have copied below an AITO Travellers Review received from one of the trekkers in this group:

"This trek was a true new route exploratory trek in western Nepal. Each day offered a new experience and beautiful scenery. Visiting a 900 year old Monastery and many rural villages and their people were just a few of our experiences. The Mountain Company UK provided excellent guidance, meals, and support throughout our journey. I highly recommend this Company for their thoroughness and superb service. Roland Hunter and our trek leader Ade Summers were the best combination to assist with every need for their clients. The local guides and crew to support us could not have been better." Phil M 18/12/2022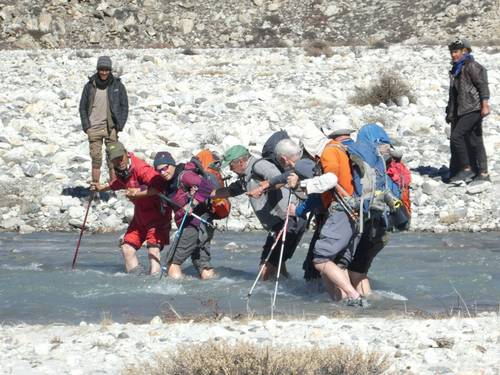 We have now finalised the dates for our next Far West Nepal Exploratory GHT group. They are from arrival to Kathmandu: May 25th to June 22nd 2024. We are very excited to return to Far West Nepal in 2024! There are so many places to explore in this remote region of Nepal that has barely been touched by other trekking operators.
Thanks very much to Ade Summers, Galden Sherpa, and Tsering Lama for their help and hard work. They were involved with two reconnaissance treks and our group trek in November. Thanks also to the cook, Resh Kumar, and assistant guide Sanja.
Well done to our group of seven intrepid trekkers! Thanks for your support in being flexible with the itinerary and for your spirit of adventure. The feedback received so far has been very positive and it sounds like everyone had a great time.
Yes, we definitely think that the West of Nepal is the Best! We look forward to exploring more of this region in May/ June 2024. Trek on…