Details

Written by Roland Hunter FRGS (Mt Everest and Mt Makalu summitter)
Managing Director & Founder, The Mountain Company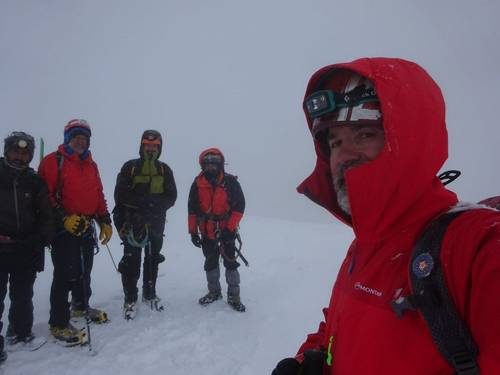 In July 2023 we organised our 14th trek to K2 Base Camp in Pakistan since 2006. Our leaders for this group were Mal Thomas (UK), Bashir (Pakistan) and Ahmed (Pakistan). The cooks were Sahid and Tahir. Bashir has worked with our groups for a number of years and always does a great job. Bashir and Mal were the guides for our K2 Base Camp & Gondogoro La group and Ahmed for our K2 Base Camp & Concordia group.
Mal is a very experienced international leader having worked in the UK, Europe, and Nepal but it was his first time leading a group in Pakistan. He sums up his experience leading the K2 Base Camp trek:
Arduous, austere, and adventurous, a fantastical journey through the Karakorum. 

Starting in Askole following an exciting drive in a 4 x 4 jeep, we started our trek led by our local Balti mountain guide Bashir and assistant guide Ahmed. The first few days were hot whilst we trekked and camped through almost desert-like terrain until we reached the campsite at Khoburtse and the Baltoro glacier. Stunning view after stunning view as we continued up the Baltoro glacial moraine passing mountains such as the Trango Towers and Masherbrum 1 until we finally reached

Concordia, our launch pad for the Gilkey memorial and K2 Base camp.The weather hadn't been too kind to us up until this point but as soon as we landed

in Concordia, we had amazing views of Mitre Peak, Broad Peak, the Gasherbrums, and finally the majestic and mighty K2 shed her clouds. The following morning, we moved to Broad Peak basecamp and continued up the Goodwin -Austen Glacier using our micro-spikes to cross the ice of the fracture zone where the Baltoro, Upper Baltoro, and Goodwin-Austen glaciers meet, as K2 got closer and closer. K2 Base Camp came into view and we scaled her lower slopes to pay our respects at the Gilkey memorial, a memorial to the fallen climbers in the Karakorum, a very poignant and humbling moment. We spent a while at the memorial before moving off back down the glacier to our tents.  


For the K2 Base Camp trek team, it was mission accomplished and from here the team would split with one group returning back down the Baltoro glacier with Ahmed whilst my group would attempt to cross the Gondogoro La with Bashir. To mark the occasion, our fantastic chefs Sahid and Tahir, prepared an amazing chocolate cake, complete with decorations and a wonderful taste.



The following morning, we said our farewells and the K2 Base Camp team retraced their steps down the Baltoro Glacier as the Gondogoro La team continued upwards to Ali Camp on the Vigne Glacier. 

We grabbed a few hours of rest in the tents before setting out on our quest to cross the Gondogoro La, a high mountain pass at 5,585m. Starting out at midnight, we trekked through the darkness until we reached the glacier as the ground began to steepen; donning crampons, we clipped onto the fixed line and started the slow ascent to the pass. Kicking steps in the snow, we continued upwards as daylight broke and continued upwards until eventually, we reached the Gondogoro La. The views from the pass are said to be amazing but we arrived in a complete whiteout, like standing in a snow globe with visibility of around 10 metres in all directions. Elated and disappointed at the same time, we crossed the snowy pass and began our descent into the snowy gloom on the fixed line into the Gondogoro Valley and our camp at Khuispan for some well-deserved food and sleep.





The following morning, we woke to crisp mountain air, snow, and beautiful blue skies, today the weather would be kinder to us. Following breakfast and a quick chat with Mingma G and his team from Imagine Nepal who had summited K2 on the previous days, we began the journey through the Gondogoro Valley to Shaisho, our final campsite. The Gondogoro is a beautiful valley, with soaring peaks, glaciers, and amazing arctic-alpine flowers as far as the eye can see, jaw-dropping vistas, and just simply stunning.





Following dinner, we had the traditional tip-giving ceremony where monetary gifts were given to our Pakistani support crew to show our appreciation for their hard work, dedication, and perseverance that they had given us for the last three weeks. With

out their support, these expeditions would not be possible. The following morning a brisk 3-hour walk to Hushe and time to say farewell to Karakoram and begin our long journey via Skardu and Islamabad, eventually home.

As Mal says the weather was not as stable as previous years. Mal describes the weather "First two days were hot and sunny, then followed we had varied rain most days; light snow during the Gondogoro La crossing which made it challenging and snow during the night at Khuspang. The walk out of the Gondogoro Valley was stunning. The K2 BC team experienced heavy rain on the return journey."  Well done to the team for successfully crossing the Gondogoro La when most other teams turned back. The critical success factors for crossing Gondogoro La are having experienced trekkers with technical mountaineering experience, the correct personal gear, and strong leadership.  
Every year we get feedback from our groups about how trekking in Pakistan is significantly more challenging than in Nepal, Bhutan, and India. We do our best to educate people about this by writing trip reports on our website after our treks. We have a Blog article that highlights the main differences between trekking in Nepal and Pakistan. You can read this at Everest Base Camp in Nepal versus K2 Base Camp in Pakistan.
We have also written a Blog article about the challenges of Gondogoro La and what experience is needed to cross safely. You can read How Difficult is Crossing the Gondogoro La pass on the K2 Base Camp trek? If you are considering doing one of the treks to K2 Base Camp you should read these articles to find out what to expect.
As usual, we will run both of our K2 Base Camp & Concordia and K2 Base Camp & Gondogoro La treks in July/ August 2024. We already have a number of people interested so these departures are likely to be guaranteed to run soon. Please get in touch with us if you have any questions about the K2 Base Camp trek or to discuss your suitability and training.
Trek on!