Details

Written by Roland Hunter FRGS (Mt Everest and Mt Makalu summitter)
Managing Director & Founder, The Mountain Company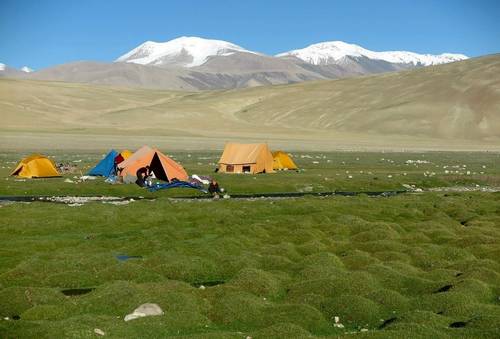 Starting on August 9th 2022 we organised our seventh Ladakh Sky Trail GHT in northern India. Almas Khan has been the leader and organiser of this trek since its inception in 2014. I know Almas was very much looking forward to getting back to trekking in Ladakh after two years off due to the Covid pandemic. 
Almas describes how the trek went in his own words:
"All flights arrived in time and some of the people has to go through a random Covid test at the Leh airport - all passed the test. It was warmer in Leh this year and it stayed warm on the trek till we reached Nuruchen. The daytime temperatures climbed up to 27 Celsius in the gorge and at our higher camps- Nuruchen, Rajankaru, and Gyama the temperature went down to below freezing at night but quickly warmed up as the summer sun got to us. The skies had very few clouds and we got good views from all our passes.  
Our two hundred and seventy (!!)  river crossings were pretty straightforward as the water level of the rivers was normal ranging from waist-deep to halfway between knees and ankles. Having warmer days made our river crossings very enjoyable too.
It took us an extra day to do the gorge section this year as the trail conditions were not so good - it seemed no one had been in the gorge between Zangla and Daat since we were there three years ago. The horses had to be unloaded four times and tracks had to be cut out and made in several places. The trek crew worked very hard and all the help and cooperation from the group members were highly appreciated by all of us. We covered up on the day we lost by not having a rest day at Nuruchen and arrived at Tsomoriri on time."
Thanks very much to Simon and Felix who submitted AITO reviews and Trustpilot reviews about their experience on Ladakh Sky Trail GHT. I have copied these below:
"The Ladakh Skytrail is a tough trek in a very interesting area. The trip starts in Leh and takes you through a high-altitude desert with very interesting geological features. A part of the trek took place in a remote gorge with lots of river crossings. The gorge was used earlier as part of a salt route. The trip is well worth the effort! It's worth noting that the trek starts quite high as Leh is around 3500 meters above the sea. This can make the first week or so a bit challenging for people who, like us, live at sea level. This was our second trip with the Mountain Company and as before the guide (Almas Khan) and the local crew was excellent. The pre-trip contact with the owner, Roland, as well as the pre-trip information provided is equally good and made us feel well-prepared." by Simon, September 16th 2022
"The Ladakh trek was extraordinary. The guide was very professional and competent and the whole team provided us wonderful trek experience. Very good information and communication before the trip." by Felix, September 15th 2022
From AITO Project Protect in 2018 we set up standard operating procedures for picking up rubbish from the trails and campsites left behind by other groups. This group brought back 13kg of rubbish they found along the way which they took back to our store in Leh. I am delighted that Almas and his trek crew left a minimal impact on the environment. Well done!
I would like to thank Almas and all of the Ladakhi team including guides, cooks, kitchen helpers and horsemen for working hard and doing a fantastic job. Almas will be back in Ladakh again next summer leading our 2023 Ladakh Sky Trail GHT and please get in touch if you are interested in joining him.
Roland Hunter
The Mountain Company