Details

Written by Roland Hunter FRGS (Mt Everest and Mt Makalu summitter)
Managing Director & Founder, The Mountain Company
Visitor numbers to Sagarmatha/ Everest National Park
Each year there are 45,000 or more foreigner visitors to the Everest region in Nepal. Sagarmatha National Park statistics show 45,112 annual visitors in 2016-2017.  Many of these visitors will be doing the Everest Base Camp trek. The visits are seasonal with 42% of annual visitors coming in October and November. March and April is also busy with 31% of annual visitors. Although as you can see there are fewer trekkers in Spring compared to the Autumn season.
Given these statistics, yes the hike to Everest Base Camp is along a busy trail. You will meet many other trekkers along the way. October, November and April are the busiest months for Himalayan walkers in the Khumbu. There always will be a strong attraction to see the highest mountain in the world, Mount Everest.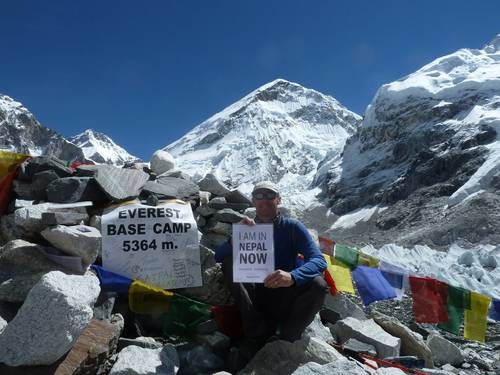 Is it still worth trekking to Everest Base Camp?
If you have the right expectations you will enjoy trekking to Everest Base Camp in the Nepalese Himalaya. We have never received negative feedback about the trails or lodges being too busy.  Our trekkers have enjoyed the experience of meeting people from different countries. Talking to other trekkers in the lodges and on the trail has been a fun part of the trip for them. Having said this, some people would prefer a quieter experience while trekking in the Himalaya. If that is the case then there are many other treks in Nepal with less busy trails.

Recently there have been lots of roads built in the middle hills of Nepal. New roads have affected treks such Annapurna Circuit. The good news for the Upper Everest region is that there will never be a road built above Lukla. There is currently a road under construction from Kathmandu to Lukla. To find out how roads affect the Everest region take a look at our blog: Is there are a road to Everest Base Camp?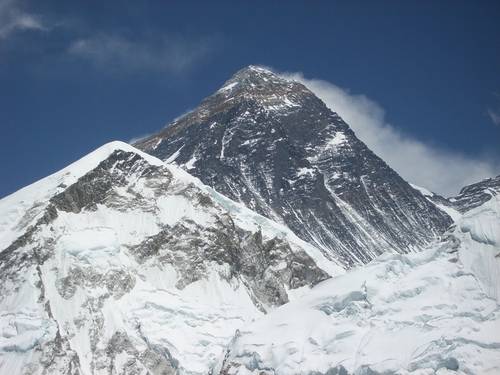 What are the alternative treks to Everest Base Camp in Nepal Himalaya?
How to avoid the crowds on a trek in the Everest region?
If you are set on your decision to visit the Everest region then there are ways of avoiding the worst of the crowds. Our advice is:
Consider trekking in Nepal at a time of year away from the peak months of Spring and Autumn season. My top recommendation would be to look at the period from mid November to end of December.  The visitor numbers decline during the Winter season. December only gets 8% of the annual visitors to the Everest region. There is a good chance of getting sunny and stable weather in December. This is as a result of a high pressure system settling over the Himalayan region during the winter.
Choose an itinerary that visits places away from the main Everest Base Camp trail. The majority of trekkers want to visit the Base Camp of Mount Everest at an elevation of 5,300m. Most trekkers also want to see the Everest summit. If you walk to Gokyo or Thame valley the trails and lodges are much quieter as are off the main trail. Take a look at our Everest High Passes itinerary as it is only four days longer than Everest Base Camp. After Base Camp also you cross two high passes and spend time exploring Gokyo valley. You also walk up to the viewpoint at Gokyo Ri at an altitude of 5,357m.
There are many different itineraries available for Everest Base Camp. Some itineraries will take you there as fast as possible and then return on the same trail. Our Everest Base Camp trek itinerary takes you to places away from the main trail. We also visit Ama Dablam Base Camp and the way back walk on the high trail through Phortse village.
Consider upgrading your accommodation while on trek. Rather than staying at a standard teahouse lodge you could stay at a high end or luxury lodge. There are two chains in the Everest region: Everest Summit Lodge and Yeti Mountain Homes. These lodges are more spacious and have better facilities often with attractive gardens. Our Luxury Everest Base Camp uses higher end lodges up to Pangboche village. Above this village you stay in standard lodges for five nights.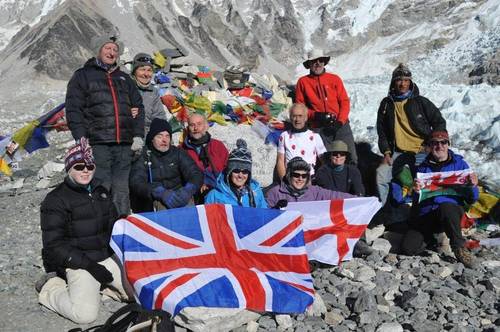 Our Conclusion
The Everest region is a beautiful place to visit and a trek to Everest Base Camp is an ambition for many trekkers. Trekking to the base of the world's highest mountain is a fantastic achievement and it is well worth the effort. Most people think the positives outweigh the drawback of walking on busier trails. On the AITO website you can read feedback and reviews from our previous Everest Base Camp and Luxury Everest Base Camp groups.

The view of Everest summit at an elevation of 8,848m from Kalapatar is an incredible sight. This is one of the best views in the world.

Trek on!