Details

Written by Roland Hunter FRGS (Mt Everest and Mt Makalu summitter)
Managing Director & Founder, The Mountain Company
Is there a road or highway to Everest Base Camp?
Yes there is a road to Everest Base Camp on the north side of Mount Everest in Tibet (China). However there is not a road to Everest Base Camp on the south side of Everest in Nepal. In fact a road to the Nepalese Base Camp of Mount Everest will never be built. The popular trekking trail to Everest Base Camp is in Nepal and not from Tibet. In practice this road will not affect a walking holiday in the Upper Everest region of the Nepal Himalaya.
The Nepali Times published Nepal building a highway to Everest in November 2020. This is correct in that there is a road currently under construction to the Everest region in Nepal. The important point to note is that the road is through the Lower Everest region finishing at Surke village. This place is below the Tenzing-Hillary airport at Lukla. It will never extend further up towards Namche Bazaar and to Everest Base Camp.
The Sherpas living in the Upper Everest region will not allow a road to go beyond Lukla. The locals are well aware this would destroy the Himalayan trekking experience. The people living in Sagarmatha National Park rely on the tourism economy. Looking after trekkers is a lucrative business and they would never jeopardise this income.
As ever with change on this scale there are pros and cons, winners and losers. This will impact the Everest trek as it will be a busier destination than before the road to Lukla. At the same time it will help the Sherpas of the Everest region by improving their quality of life
.
New road to Surke/ Lukla in Everest region of Nepal
There is already a road from Kathmandu to the town of Salleri in the Lower Everest region. The new road to Surke/ Lukla mentioned in the Nepali Times article is an extension of this road. The route from Salleri to Lukla is over Taksindu La and then up the Dudh Khosi valley.
In March 2017 I drove in a jeep along the road from Kathmandu to Salleri. This was during a reconnaissance for our Pikey Peak trek. The road is a distance of 270km and takes about ten hours to drive. There are some sections of the road with a hard top although there are other sections that are very rough. This road is also often blocked with landslides and this can cause long delays.
The new section of road from Salleri to Lukla will be 104km in distance. At present the road is near Kharikhola village and the completion date to Lukla is by December 2022. It might take a year or two longer to finish as there are significant engineering challenges ahead. It is not known yet how long it will take to drive from Salleri to Lukla. Given the amount of ascent and descent it is likely to take at least five hours or longer…
There is also another road constructed recently from Jiri to Junbesi. The town of Jiri was the road head for many years and from here it was a lovely six day trek into Lukla. When I walked this trail back in 2006 there was already a jeep track to Junbesi. Road construction in the Everest region is not new and has been going on for over 20 years. As the road is closer to Mount Everest it is only now being reported in the media as this is deemed more "newsworthy".
How will the Lukla road impact Everest Base Camp trek in Nepal?
In practice the new road to Lukla will not make much difference to Everest Base Camp trekkers. It will not extend beyond Surke so trekkers will not see the road on their hike. The Everest trail above Lukla will be the same as before. The majority of trekkers will continue to take the flight from Kathmandu to Lukla. There will be few international trekkers prepared to drive on a rough road from Kathmandu to Lukla. This journey of 374km will take a long time and be an uncomfortable ride!
The one exception to this might be during periods of bad weather. Poor visibility causes flight cancellations to Lukla. In the past groups have been stranded in Lukla for many days waiting for a flight back to Kathmandu. In this situation people might drive out on the new road rather than risk missing their international flight back home.
A significant impact of the road will be making the trails in the Everest region busier with other trekkers. Trekkers with lower budgets will opt for the drive to save the expense of the airfare. The cost is US$360 return from Kathmandu to Lukla. Recently people from more countries of the world, such as India and China, have discovered trekking in Nepal. It is also lovely to see more Nepalese travelling more in their own country. The downside of increased interest has resulted in busier trials and more crowded teahouse lodges.

Yet the Everest region will still be an incredible place to trek as long as you have the right expectations. After all the amazing views of the Himalayan peaks like Ama Dablam will be the same as before. By carefully choosing the best time of year for trekking in Nepal such as in December it is possible to get fine weather and avoid the peak months.

Will the Lukla road affect other treks in the Everest region?
Yes the new road to Lukla will sadly impact treks in the Lower Everest region known as Solu Khumbu. The traditional walk into Everest Base Camp from Jiri was a lovely old trail. It passed through villages and crossed high passes around 4,000m with views of the Himalaya. This was an old path constructed with stone steps that had been in use for generations. It is sad to see the ancient trails bulldozed away and lost forever.
On the positive side, there are still many beautiful old trails still in existence in the Solu Khumbu. It means trekking operators like us need to be creative and update our trek itineraries. Recently we have spent a lot of time on reconnaissance treks in the Solu Khumbu. We are also planning to explore the Panch Pokhari area north of Junbesi for a possible trail to Phakding.
The good news is that trekking has survived and thrived in the Annapurna region. This is in spite of road construction along the old trekking trail. It took some time for trekking itineraries to adapt by finding new trails to follow. We discuss the pros and cons of the road in Annapurna in our Blog article How to avoid walking along the road on Annapurna Circuit.
Advantages of the road for locals in the Khumbu
Like in Annapurna, road connectivity improves the quality of life for the locals living in the hills. Provisions can be transported into the region by vehicle and this reduces the cost of living. This will help the lodge owners by reducing their cost of operations. When I did the Jiri to Lukla trek in 2006 there were many porters carrying heavy loads of up to 100kg along this trail. This was brutal and back breaking work. More recently trains of mules and horses have started to carry supplies up to Namche Bazaar. The locals can also use the road to travel out to the cities to access a higher level of medical care. They can also travel to find work and for the younger generation to study to improve their education.
China's road to Everest Base Camp in Tibet
On my expedition to climb Mount Everest in Spring 2001, we drove from Kathmandu to Everest Base Camp in Tibet. In those days the last section of the road from Tingri to Everest Base Camp was on a rocky jeep track. It was only possible to drive there using four wheel drive vehicles. These days the road is better and is now a hard topped road to Rongbuk monastery and to Everest Base Camp. You can read more about this in National Geographic's article China's New Road May Clear a Path for More Everest Climbers.
The road does not affect mountaineering expeditions in any negative way. In fact having a road improves the chance of expeditions driving to Base Camp if there is snow or icey conditions. For most of the time on my Everest summit expedition we stayed at Advanced Base Camp at an altitude of 6,400m. We walked down to Everest Base Camp only several times during six weeks on the mountain. There are very few trekkers that visit the Tibet side of Everest.
There are tour groups that visit Rongbuk monastery and to see the view of the north face of Mount Everest. The road makes it easier for them to drive up too fast without spending enough time to adapt to the high altitude. Many of these tourists get high altitude sickness. Then they have to descend quickly to recover in the higher oxygen levels at Tingri town.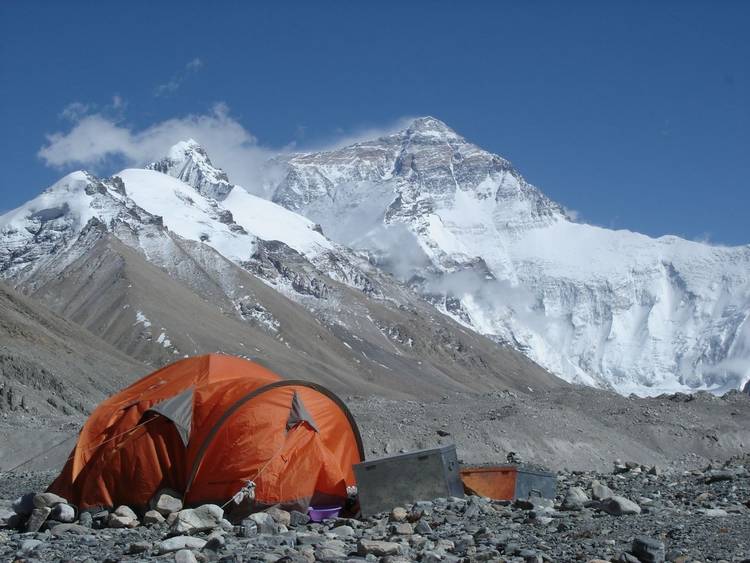 Conclusion
Yes there is a road to Everest Base Camp in Tibet (China) however this does not affect Everest climbing expeditions. Whereas in Nepal there will never be a road to Everest Base Camp. The road under construction will stop at Surke below Lukla airstrip. Thus it will not affect the trekking experience in the Upper Everest region. Most trekkers will still start their Everest Base Camp trek like before with a flight to Lukla. Take a look at our YouTube video below to find out what the Lukla flight experience is like. 

The road from Salleri to Lukla will downgrade the trek experience on the classic trail from Jiri. This is the traditional walk into Lukla through the Lower Everest region. The good news is that there are still many other treks that follow the traditional paths. For a walking holiday in Nepal you should choose an experienced trekking operator. They should have the knowledge to be able to design an itinerary for you avoiding most of the roads in the Lower Everest region. I suggest you also read our Blog article "Our Seven Tips for a Successful Trek to Everest Base Camp".
The country of Nepal is changing fast. It is understandable that the locals living hard lives in the hills would like roads. This will improve their standard of living and create opportunities for their families. The Himalayan trekking experience and roads can co-exist in the future like in the Annapurna region of Nepal.