Details

Written by Roland Hunter FRGS (Mt Everest and Mt Makalu summitter)
Managing Director & Founder, The Mountain Company
Understand Acclimatisation Before Trekking To Everest Base Camp
It is very important to plan a trek to Everest Base Camp to prevent the risk of getting altitude sickness. This is a practical guide to help you have a safe high-altitude trek in the Himalayas. I have written this article based on my first-hand experience of climbing on the highest peaks in the world. I have been on expeditions to Mount Everest, Makalu, Kanchenjunga and Broad Peak. Since 2004, I have also led over forty trekking groups in the Himalayas and Karakorams. You can read my Bio: Roland Hunter.
Avoiding getting sick at an extreme altitude when Himalayan trekking is not rocket science. Having said that, there is smoke and mirrors out there. This can make it difficult to decide upon an itinerary to follow such as on the Everest Base Camp trek in Nepal. By far the most important factor is having enough days on your hike for acclimatisation. There has been a proliferation of online articles about trekking at higher altitudes. Most of these authors are "travel bloggers" or "influencers". In practice, they do not have the experience or training to conclude about safety in the Himalayas. Whereas others have a vested interest to promote shorter treks... 
In Nepal, the trekking industry is not regulated. There are no safety standards such as having a minimum number of days to reach Everest Base Camp. If people ask for a short trek to Everest Base Camp then some operators will provide this service even if it is unsafe to do so. You should do your research carefully before making a decision about your trekking holiday in the Nepal Himalayas.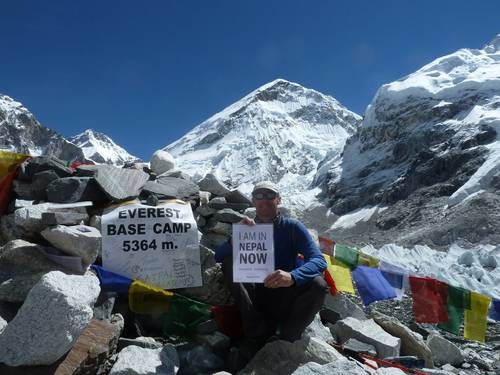 What Is Acclimatisation To High Altitude?
The more time you take ascending to high altitude means more time for your body to adjust to the lower levels of oxygen. This process is called acclimatisation. If you took a helicopter from Kathmandu to 5,000m, then after a few hours you would get altitude sickness. If you do not descend rapidly (or breathe on bottled oxygen) you would die.

Do your own research to educate yourself about acclimatisation before departure. The best information is on the Fit For Life website by the NHS (National Health Service in the UK). Read their article called Altitude and Travel.

When looking to do a Himalayan trek you should consider the ascent profile. Many commercial operators do not follow the UIAA Gold Standard of "not climbing too fast too high." Take some time to read the Consensus Statements of the UIAA Medical Commission. Their key recommendation is as follows:
"Above 2,500 – 3,000m, if terrain allows it, don't increase sleeping altitude by not more than 300 - 500 altitude meters every 24 hours and spend an extra night at the same altitude every third day of climbing. If possible do not sleep at the highest point reached on that day."
How Many Days Is A "Safe" Itinerary to Everest Base Camp?
Recently I did an online search on Google for the keyword "fastest trek to everest base camp". The results show there are operators organising treks taking only 10 days from Lukla to Everest Base Camp and back to Lukla. This means you would sleep at Gorakshep on only the sixth night of the trek. This itinerary is very dangerous and it is very likely you will get altitude sickness during the trek!
Most UK operators promote Everest Base Camp taking only 12 days from Lukla to Lukla. Whereas, The Mountain Company's Everest Base Camp itinerary takes 14 trekking days. Our trip from arrival to Kathmandu is 19 days (or 20 days including flight time from the UK). It is worth pointing out that each person will acclimatise at different rates. Some people adapt faster than others to the lack of oxygen at higher elevations. We plan our treks so that almost everyone can sleep at over 5,000m even for the slower acclimatisers.
The standard 12-day itinerary to Everest Base Camp complies with the UIAA recommendations. It ascends at 400m in height per day with two acclimatising days (at Namche and Dingboche). However, in practice, the ascent rate is still pretty fast. It is unlikely that everyone in the group will reach Everest Base Camp. Along the way most people will get Acute Mountain Sickness (AMS) with headaches and nausea.
The Mountain Company organises a longer Everest Base Camp itinerary taking 14 days. This profile ascends at an average of 345m per day with three acclimatising days (Namche, Pangboche and Dingboche). Our groups arrive at Gorakshep on the tenth trekking day. Having two more days on trek means you will have a higher chance of getting to Everest Base Camp AND enjoy yourself along the way!
The main difference between our 14-day trek itinerary and 12-day trek itinerary is we stay two nights at Pangboche. This village is on the way between Tengboche and Dingboche. As you can see from our Everest Base Camp itinerary below these two extra days are Days 5 and 6. From the village of Pangboche, you walk to Ama Dablam Base Camp. This is a lovely walk up to an altitude of 4,576m with incredible mountain views. This is rarely walked by other trekkers following the direct trail to the Base Camp of Mount Everest.
The walk on Day 4 of our itinerary from Tengboche to Pangboche is quite short taking about 3 hours. In the afternoon we explore the village and walk to Upper Pangboche. The main trail to Everest Base Camp only passes through Lower Pangboche. This is the new part of the village with teahouse lodges. Therefore most Everest Base Camp trekkers do not see the old village. It is a beautiful place with traditional houses and a monastery. In fact, the monastery, known as a gompa, is one of the oldest in the Everest region. It was established by Lama Sanga Dorje who is the patron saint of the Khumbu. Old juniper trees and fields surround the village. 
The Mountain Company's 14-day itinerary to Everest Base Camp
Day 1 Fly from Kathmandu to Lukla (2,840m), trek to Phakding (2,610m)
Day 2 Trek to Namche Bazaar (3,440m)
Day 3 Acclimatising Day 1
Day 4 Trek to Tengboche (3,860m)
Day 5 Trek to Pangboche (3,930m) [EXTRA DAY VERSUS 12 DAY ITINERARY]
Day 6 Acclimatising Day 2 [EXTRA DAY VERSUS 12 DAY ITINERARY]
Day 7 Trek to Dingboche (4,410m)
Day 8  Acclimatising Day 3
Day 9 Trek to Lobuche (4,931m)
Day 10 Trek to Gorakshep(5,200m), afternoon to Everest Base Camp
Day 11 Ascend Kala Patar (5,545m) and return to Pheriche
Day 12 Trek to Phortse village (3,800m)
Day 13 Trek to Monjo (2,610m)
Day 14 Trek to Lukla (2,840m)
The 10-day Everest Base Camp itinerary ascends much faster. It is the same as the 12-day itinerary however has no rest days at all during the trek. Therefore, it is in clear breach of UIAA guidelines. Please do not even consider doing a short trek like this to save your holiday time. I promise you that this trip will not end well! If you cannot take 3 weeks off work then it would be best to postpone your holiday to a later date.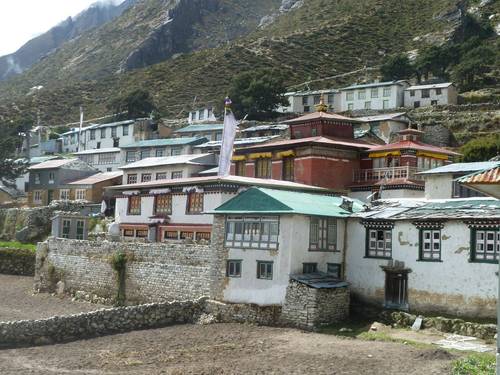 Other Advantages Of A Longer 14-day Trek To Everest Base Camp
There are benefits of a longer itinerary to Everest Base Camp beyond acclimatisation. By having more days it means there are more "buffer days" in case of delays along the way during the trip. The most common delay is flying from Kathmandu into Lukla Airport if there is bad weather. If one day is lost waiting for the planes to operate on the 12-day trek then a group could not safely complete the trek. Whereas for 14-day trek it would be no problem to trek to the Base Camp of Mount Everest in 13 days.
We have seen other situations where having extra days has resulted in members of a group making it to Base Camp. It has happened where someone is not feeling well due to AMS or catching a bug. They stayed in the lodge with one of our guides for a rest day while the rest of the group continued upwards. On the next day, they felt better and trekked up to the higher lodges.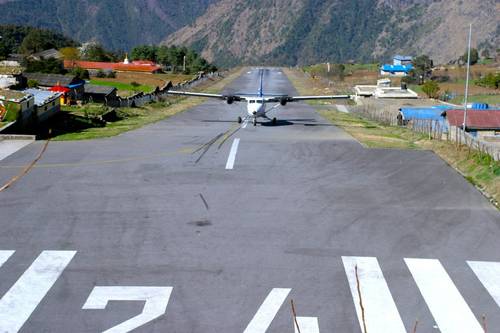 Why Are Shorter Treks To Everest Base Camp Still Sold By Trekking Companies?
As anyone in the trekking industry knows, it is much easier to sell a shorter trek than a longer one. It is often not easy for people to take more than two weeks' holiday from work at any one time. There is a commercial advantage in compressing a trek to within these time limits.
The other factor is the price of the trip. A shorter itinerary will always be less expensive than a longer one.
Some trekking companies have organised the 10-day Everest Base Camp for years. Many of their clients have been evacuated back to Kathmandu by helicopter due to altitude sickness. Yet their itineraries have never been updated with a safer ascent profile. The reason for this might possibly be due to ignorance and lack of knowledge. But it is hard not to conclude there might be darker reasons for this inaction.
There are many helicopter companies in Nepal that organise evacuations back to Kathmandu. To secure a lucrative rescue paid for by an insurance company they will often offer to pay a commission to the trekking operator. These commissions can be US$1,000 or more. It encourages unscrupulous trekking operators to profit when their clients get altitude sickness. The Mountain Company has a strict policy of never accepting commissions like this. The corruption around helicopter rescues in Nepal was first reported by Ed Douglas in his article for British Mountaineering Council called High Flying: Helicopter Rescue in Nepal Investigated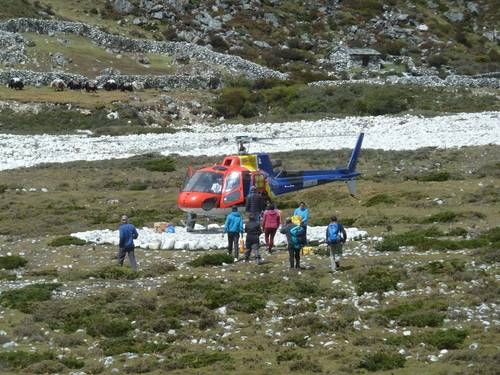 Should I Take Diamox As A Prophylactic Medication On A High Altitude Trek?
This is a question many of our trekkers ask before departure on their Himalayan trek. Our approach is to design our itineraries so that they follow the UIAA Gold Standard. Your body has time to naturally acclimatise to the high altitude so you should not need to take medicine. The most effective medicine is Diamox (also known as Acetazolamide).
Be very suspicious of a trekking operator or guide that encourages you to take prophylactic medication for acclimatisation. In practice, most trekkers on a shorter itinerary will end up having to take Diamox for survival. In our first aid kit, we have medicines to treat altitude sickness including Diamox. If required we will give it to our trekkers as even with a longer trek it is possible to get symptoms of AMS higher up.

We recommend that you discuss this with your doctor for further advice. For people that have been slow acclimatising on previous high altitude treks, it might be sensible to take Diamox from the start of the trek.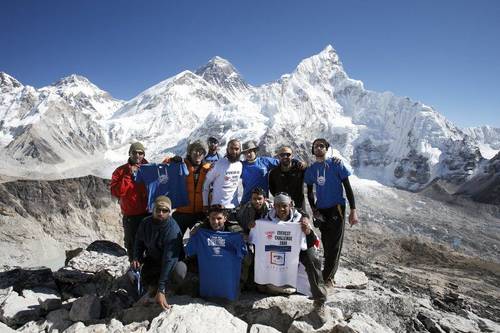 Other Tips For Safe Trekking At High Altitude In The Himalayas
Keep hydrated. If you are dehydrated it is more likely that you will get altitude sickness.

Walk slowly. By walking at a slower pace you will maintain your energy for the harder days at higher elevations.

Follow UIAA advice "If possible do not sleep at the highest point reached on that day" by climbing high, sleeping low. On the "acclimatising days" when you spend two nights in the same place, it is best to keep active by ascending in altitude during the day. We have three acclimatising days in our 14-day itinerary to Everest Base Camp.

Find out what medicines your trekking guide will have in his first aid kit. Read up about doses and types of medicines for altitude sickness.

Does your trekking guide have the experience and training to monitor your acclimatisation during the trek? For our treks, we use a pulse oximeter to measure your blood oxygen saturation and heart rate to detect the early stages of altitude sickness.

Does your trekking group have a satellite phone and, if so, find out what their emergency response plan is. The Mountain Company sends satellite phones with all of our groups in Nepal including to the Everest region.
Acclimatisation to high altitude is important for safety when walking in the Himalaya. The Mountain Company's approach is to have longer itineraries on our trekking holidays. This means that most of our trekkers meet their goals of getting to Everest Base Camp and Kalapatar. And importantly they have great fun and enjoy the trek at the same time! For more advice read our Blog article called 7 Tips For A Successful Trek To Everest Base Camp.

We organise three types of treks to Everest Base Camp using different types of accommodation. They are Everest Base Camp, Luxury Everest Base Camp and Everest Base Camp Teahouse Plus+. Take a look at our AITO Traveller Reviews received for Everest Base Camp and AITO Traveller Reviews for Luxury Everest Base Camp. I have copied one review below:

"The planning, preparation and attention to detail was first class. The trek ran like clockwork and everyone involved from the Mountain Company, from the Guide and Porter to the team in Kathmandu and in the UK were all fantastic and so professional. The route had been extremely well thought through and included 3 acclimatisation days to ensure the effects of altitude sickness were minimised. A brilliant holiday thanks to a brilliant company. Thank you." by Laurie, Luxury Everest Base Camp trek in 2019

Please get in touch with us if you would like information about our walking holidays in the Himalaya and Karakoram. Trek on!
2019 Everest Base Camp In Hillary's Footsteps