Details

Written by Roland Hunter FRGS (Mt Everest and Mt Makalu summitter)
Managing Director & Founder, The Mountain Company
How does Annapurna Base Camp compare to Annapurna Circuit?
I have noticed from replying to our trip enquiries there is often confusion about Annapurna Base Camp ("ABC") and Annapurna Circuit ("AC"). As stand-alone treks, these are very different in nature. In this Blog I will explain:
- the main similarities and differences of Annapurna Base Camp versus Annapurna Circuit
- how the level of difficulty and grading level compares
- the key challenges and risks to consider for both of these treks

I have walked both Annapurna Circuit and Annapurna Base Camp trails. Thus this article is based on my first-hand experience of both of these high altitude walking holidays.

It is possible to combine both of these treks into the "Complete" Annapurna Circuit by also visiting Annapurna Base Camp at the end of the trip. In practice, most people do not do this unless they have a lot of time available for their trekking holiday. So the main choice to make is whether to trek to Annapurna Base Camp or variations of the Annapurna Circuit.
In fact, these days most people do the shorter Half Annapurna Circuit, also known as the Mini Annapurna Circuit. The Half Annapurna Circuit ends at the town of Jomsom reached two days after crossing the high pass. There is an airport at Jomsom where you can take the flight to Pokhara.
It is worth pointing out to add to the confusion Annapurna Base Camp is often called Annapurna Sanctuary and these are exactly the same treks.
In summary, the four main variations of the classic Annapurna treks are:
- Annapurna Base Camp - 14 days ex Kathmandu. Yellow trail on the map below.
- Half Annapurna Circuit - 17 days ex Kathmandu. Blue trail on the map below
- Annapurna Circuit - 22 days ex Kathmandu. Red trail on the map below
- "Complete" Annapurna Circuit including Annapurna Base camp - 31 days

The best way is to visualise these trails marked on a map. We have set up a Google Maps showing these treks of the Annapurnas. Click on the link on the image below to launch Google maps.
Similarities between Annapurna Base Camp and Annapurna Circuit
1. Annapurna region of Nepal
Both of these treks are in the Annapurna Conservation Area Project in Nepal known as ACAP. You need a trekking permit to visit ACAP. The permit fee for foreigners is 3,000 Nepalese rupees (about US$30). The permit fee for SAARC nationals is 200 Nepalese rupees (about US$2).
We drive to the starting point of both treks and do not need to take a flight like for Everest Base Camp. For Annapurna Base Camp we drive to Nayapool taking 2 hours from Pokhara. For Annapurna Circuit it is a 10 hours drive to Jagat from Kathmandu.
Accommodation is the same for both treks as you stay in
tea house lodges
every night. One difference worth noting is that for ABC you should expect dormitory-style accommodation. Whereas on AC you will get your own private room. ABC is very popular and there is only a limited number of lodges available on the trekking route.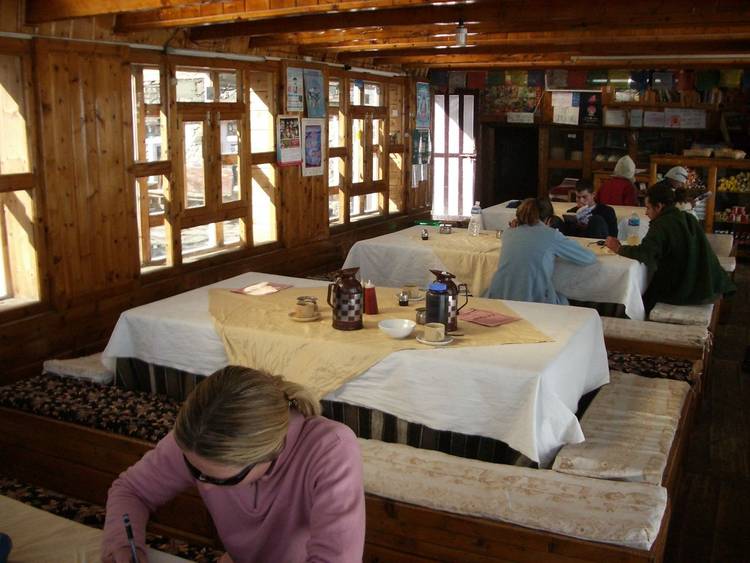 All treks in the Annapurna region are impacted to some extent by road building. In general, Annapurna Base Camp ("ABC") is less affected by roads than Annapurna Circuit "AC".
On ABC there is a jeep track on the first day of the trek to Tirkhedunga. The other section of the itinerary with a road is on the last day of the trek from Ghandruk to Nayapool. For the other eight days of the trek, you are walking away from traffic on old hiking trails.
Whereas on AC there is now a road on both sides of the Thorong La pass. The road extends to Manang village only two days before the pass. Once over the pass into Mustang, the road extends to Muktinath and it is possible to drive all the way to Pokhara. Having said this the road is often blocked especially during the monsoon season. In practice, these days one does not walk on the road too much as there are Natural Annapurna Trekking Trails "NATT" trails to follow. For a detailed discussion read our Blog How to Avoid Walking on the Road on Annapurna Circuit trek.
Differences between Annapurna Base Camp and Annapurna Circuit
As discussed in the introduction for the four variations of Annapurna treks there is a range in itineraries from 14 days to 31 days. Your choice is likely to be determined by the amount of time you have available for your hiking holiday in Nepal. The shortest trek is Annapurna Base Camp at 14 days and the longest is the Complete Annapurna Circuit at 31 days. The distances of the trails are:
Annapurna Base Camp - 74km
Half Annapurna Circuit - 128km
Annapurna Circuit - 197km
2. Characteristic of the trails
Annapurna Base Camp is an out and back trek. You walk along the section of trail from Chomrong village to Base Camp twice both on the way up and on the way down. On the return journey, it takes two days to walk this trail through Deurali, Hinku Cave, Himalaya, Doban, and Bamboo.
There are several variations of the ABC trek for the approach and the walkout to/ from Chomrong village. The Mountain Company itinerary starts by going via Ghorepani and Poon Hill. This is the best trail as it gives more time for acclimatisation plus the mountain views are spectacular. On the walkout, we take the fastest route by following the Modi Khola river to Nayapool.
Whereas Annapurna Circuit is a hike around the Annapurna massif so you do not retrace any section of the trail. For many people, this is an attractive option as you see new views on every day of the trek. Another disadvantage of ABC is that the trail from Chomrong to Base Camp is always busy as there are groups both ascending and descending.
3. Highest altitude reached
Annapurna Circuit crosses the Thorung La pass at 5,416m. Whereas Annapurna Base Camp trek reaches 4,100m. Thus the highest point of the ABC trek is 1,300m lower than AC. This means there is a lower risk of altitude sickness on ABC yet of course you still need to ascend slowly.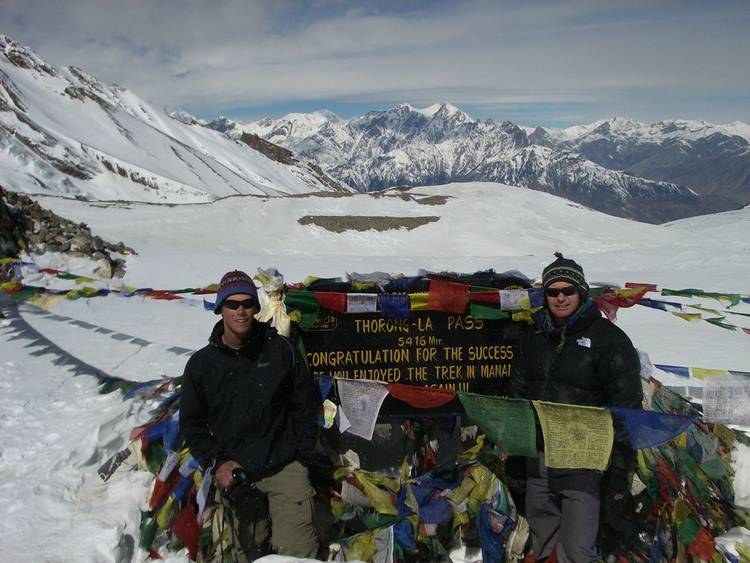 4. Grading and level of difficulty
The timing of the Annapurna Circuit is restricted to the months of April, May, October, and November. This is due to conditions for crossing Thorong La pass at a high altitude over 5,000m. At this high altitude, it is getting cold by December and during winter the pass is often blocked due to deep snow.
There is a larger window of travel for Annapurna Base Camp. It is often possible to trek during the winter as the highest altitude is 1,000m lower than the summit of Thorong La. If you are trekking in the winter months you should be aware of the avalanche risk near Hinku Cave and Deurali. For more information see the Challenges and Risks of Annapurna Circuit section in this Blog.

I suggest you also read our Blog When is the Best Time to go Trekking in the Nepal Himalaya?
Annapurna Circuit starts through Hindu villages with a range of ethnic castes. Higher up after entering the Nupri zone, there are Buddhist villages such as Manang (3,500m) and Pisang (3,190m). 
The highest village on Annapurna Base Camp trek is Chomrong at 2,170m. There are many Gurungs settled in the Annapurna middle hills of Nepal as well as a range of Hindu castes.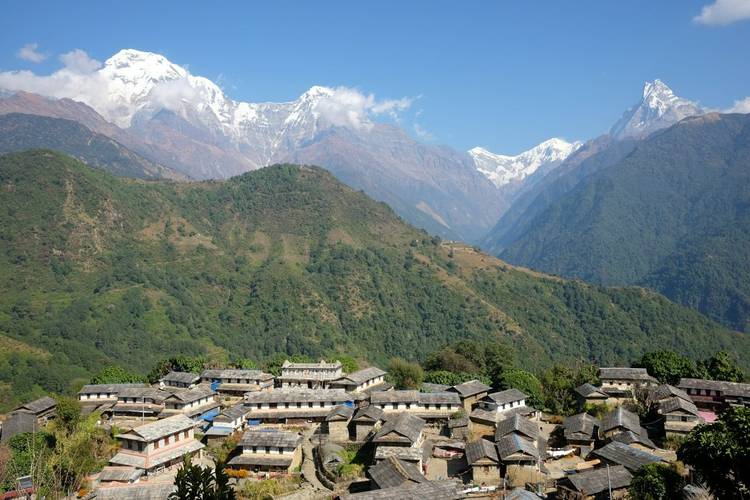 Challenges and risks of Annapurna Base Camp
The nature of the trail to ABC is that for a significant amount of time you are walking on steep stone paths. For example, there is a stone path at the start of the trek climbing from Tirkhedunga (1,540m) to Ghorepani (2,750m). There are also steep ascent and descent on stone paths to and from Chomrong.
Most people find walking on stone steps more challenging than a natural trail. Often the height between steps is either higher or lower than one's natural gait. The feedback from many of our ABC trekking groups is how they found this one of the biggest challenges. Annapurna Base Camp is more physically demanding than often described in guidebooks!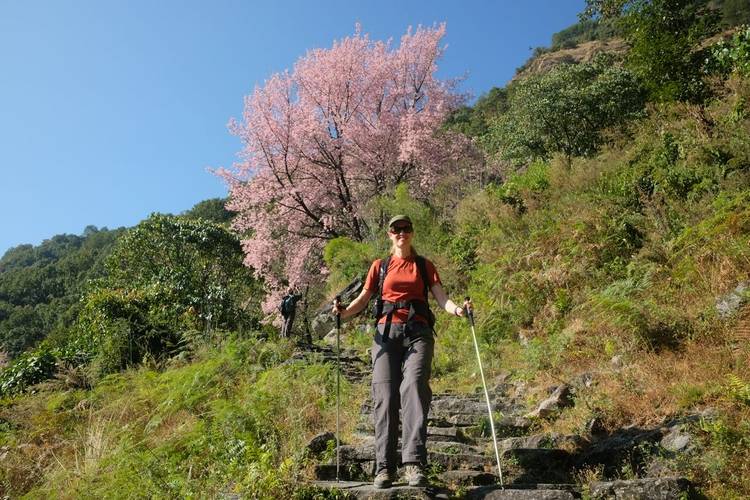 I heard about the risk of avalanches on Annapurna Base Camp for the first time in Spring 2001 when I was climbing Mount Everest from the Tibetan side. At Base Camp, we met the Army Alpine Association Tenix Everest 2001 expedition. They told us that before travelling to Tibet they trekked to ABC in Nepal with family members. On March 25th, an avalanche hit their group and killed three members of their party including an 8-year-old girl. You can read more about this sad accident on CNN.

There have been quite a few fatalities due to avalanches in the same place. The most recent avalanche was in January 2020 when six people were killed. You can read more about this accident on BBC News.

The riskiest section of the Annapurna Base Camp trail for avalanches is from Hinku Cave (3,100m) to Deurali (3,200m). An avalanche off Mount Hiunchuli (6,441m) will be funnelled down several steep gulleys. As the valley is narrow at this point any snow and ice will hit the trekking trail.
If there have been recent snowfalls do not trek to Annapurna Base Camp trek. We check the weather forecast before our groups start their treks. If there is a high risk we will divert to other treks in the Annapurna region with no avalanche risk.  It is always important to be flexible with your plans in the mountains.
Challenges and risks of Annapurna Circuit

If you ascend too rapidly before crossing Thorung La pass at 5,200m there is a risk you will get altitude sickness. We have designed our trekking itineraries to allow for time for gradual adaption to the high altitude. For example, we include three nights at Manang village at 3,500m whereas most other trekking companies only include two nights. We have noticed that the extra night improves acclimatisation and helps our trekkers safely cross the high pass over to Muktinath.
2. Heat at lower elevations
On Annapurna Circuit we drive from Kathmandu to Jagat (930m) and start our trek from this village. At this elevation, it will be hot and humid during the months of April, May, and October. It is important to bring plenty of water, wear a sun hat and apply sun cream.
Whereas for Annapurna Base Camp we drive to the trek start point at Nayapool (1,070m). It will also be hot but we ascend in altitude faster than AC by climbing the steps up to Ghorepani. The temperatures will cool off and it is likely to be more breeze on the ridgeline to Tadapani. Whereas for AC we follow the Marsyangdi River and the ascent is more gradual so it will be hot for more days than for ABC.
3. Descent from Thorong La
The toughest day of Annapurna Circuit is crossing the Thorong la high pass. The descent from the pass can be challenging if the conditions are icy as the slope is quite steep in places. For your safety, we include micro crampons and two trekking poles plus gaiters on our kit list.
If there has been a recent heavy snowfall there will be avalanche risk on the slopes near Thorong La. As a general rule, it is best to leave the snowpack to stabilise for several days after a snowfall.
On 14 October 2014, there was a heavy snowstorm as a result of Cyclone Hudhud. Many trekkers were unaware of the storm and crossed Thorong La during this storm. During this day, 21 trekkers died near the pass from avalanches and hypothermia. This incident is Nepal's worst-ever trekking disaster. For more information about this accident read the Wikipedia page.
This disaster was preventable as Cyclone Hudhud had been predicted for many days. Forecasters tracked the storm across India and north into Nepal. At The Mountain Company, we received a warning from our weather forecaster at Everestweather.com about the cyclone. We sent warning messages to our groups in the field to their satellite phones. It is for safety reasons we send a satellite phone with all of our trekking groups.
As you can see there are key differences between Annapurna Base Camp versus Annapurna Circuit. Their characteristics are distinctive and you will have a very different experience doing one or other of these treks. We suggest that you carefully review this article before making a decision on your walking holiday in Nepal.

You can find out more about these treks by reading our AITO Traveller Reviews for Annapurna Base Camp and AITO Traveller Reviews for Half Annapurna Circuit. I have copied one of the reviews received below:
"First trip to Asia and first Himalayan trekking holiday. 12 days tough trekking in the most amazing place. Beautiful forested valleys and then into soaring mountains and snow.." by Hippo
There are also other options for treks in the Annapurna region beyond the hikes discussed here. To find out more about other trekking itineraries in the Annapurnas take a look at our Blog 7 Best Annapurna treks in Nepal
If you have any questions about Annapurna treks in Nepal please get in touch with us. We can provide feedback on your suitability as well as a training plan to help you get ready and prepared.
Trek on!