Details

Written by Roland Hunter FRGS (Mt Everest and Mt Makalu summitter)
Managing Director & Founder, The Mountain Company
Dhampus Peak on the Dhaulagiri Circuit trek in Nepal
The summit of Dhampus Peak, sometimes called Thapa Peak, is at an altitude of 6,012m. This Himalayan mountain is North-East of Dhampus Pass (5,240m). This is the second 5,000m pass crossed on the Dhaulagiri Circuit trek in Nepal. Mount Dhaulagiri (8,167m), Mount Tukuche (6,848m), and Dhampus Peak (6,012m) are a chain of prominent peaks to the West of the Kali Gandaki valley. Dhampus Peak is 14km due West of the town of Jomsom.

As there are extra costs involved we include Dhampus Peak as an optional extra on the base price of the Dhaulagiri trek. People enquiring about joining Dhaulagiri Circuit often ask us whether it is worth including a climb of Dhampus Peak. In this blog, we discuss the climbing route; how much mountaineering experience is needed, and how much the climb costs.
In our Dhaulagiri Circuit itinerary, we include two nights camping in Hidden Valley at an altitude of 5,000m. We have a full day in this incredible place and one of the options is to climb Dhampus Peak. It is only possible to stay in Hidden Valley for more than one night if you are well acclimatised. This means you need a slow ascent rate to Dhaulagiri Base Camp before crossing over the French Pass. If you ascend too fast then climbing Dhampus Peak would be out of the question.
For more information, you can read our blog article How Hard is Dhaulagiri Circuit trek in Nepal?
What mountaineering grade is the climbing route on Dhampus Peak?
There are two standard routes to climb Dhampus Peak. The first one is from Dhampus Pass. The second one is from the Kali Gandaki valley side of the mountain. This route starts on the trail between Dhampus Pass and Yak Kharka campsite. Our groups follow the route up and down from Dhampus Pass. This is a big day with 1,000m of ascent from Hidden Valley. On the next day the whole group, both trekkers and climbers, cross the pass together over to Kali Gandaki.
The difficulty of the climbing route on Dhampus Peak depends on the conditions. In some years there is little or no snow on the route, especially in early or mid-October. In these conditions, the climb is reasonably straightforward. The route follows a rocky trail and involves some scrambling moves higher up. If there is snow and ice on the route it makes the climb a far more serious undertaking that requires mixed climbing at high altitude. For a European Alpine grade, I would give the route a "Peu Difficule PD" (translated in English as slightly difficult).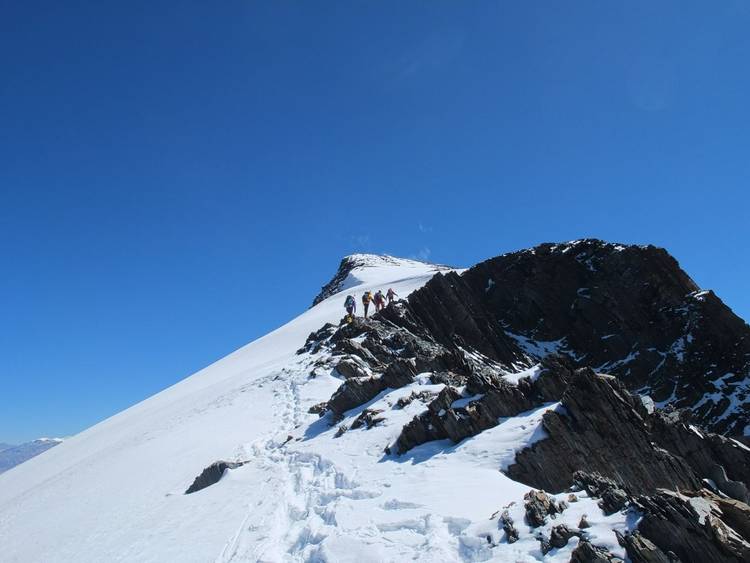 What previous mountaineering experience is required to climb Dhampus Peak?

If you want to have a realistic chance of climbing to the summit of Dhampus Peak you need a moderate level of mountaineering experience. This could be from previous winter climbs in Scotland, the European Alps, American Rockies or New Zealand Alps etc. Even if the conditions on the route are dry the main challenge is the time taken and the physical effort to ascend over 1,000m at high altitude. With our past groups, we had to turn around some of our less experienced mountain climbers. This was because they were moving too slowly to safely make the climb during daylight hours.
From looking at the statistics over the years the summit success rate is quite low on Dhampus Peak. According to the Ministry of Tourism in 2019, there were 76 climbing permits issued for Dhampus Peak. Out of these, there were only 33 successful summits making a success rate of 43%. If you want to attempt Dhampus Peak with one of our groups then we need to know more about your mountaineering experience. We screen our trekkers and climbers to assess whether this would be an achievable goal. We will give feedback on any further training or mountaineering experience required before joining the trip.
How much does it cost to climb Dhampus Peak in Nepal?
Unfortunately, the Nepalese authorities have classified Damphus/ Thapa Peak as an Expedition Peak. So this requires a permit from the Ministry of Tourism and means following more regulations. The other permit in Nepal is for Trekking Peaks issued by the Nepal Mountaineering Association (NMA).  NMA's permits are less bureaucratic and cheaper than an Expedition Peak permit. Trekking Peak permits are required for trips to Mera Peak, Mount Ramdung and Pisang Peak etc.
Luckily, no Liaison Officer is needed for Expedition Peak permits for mountains under 6,500m like for Dhampus Peak. But, there are many other rules and this significantly increases the cost of the expedition. A summary of these are as follows:
A medical clearance certificate issued in your home country (at your own expense).

A briefing and debriefing at the Ministry of Tourism.

Nepalese climbing staff has to be insured, equipped and paid per the rules published by the Ministry of Tourism.

Each climber must pay for an Expedition Peak permit.
For our Dhaulagiri trip, the Expedition Peak permit and associated costs for Dhampus Peak are an optional extra. We pass on the net cost to our clients and this depends on the size of the group opting to include the climb. Sadly due to the bureaucracy of climbing in Nepal, it is very expensive, especially for smaller groups. In practice there is no need to confirm with us whether you like to include Dhampus Peak until two months before departure.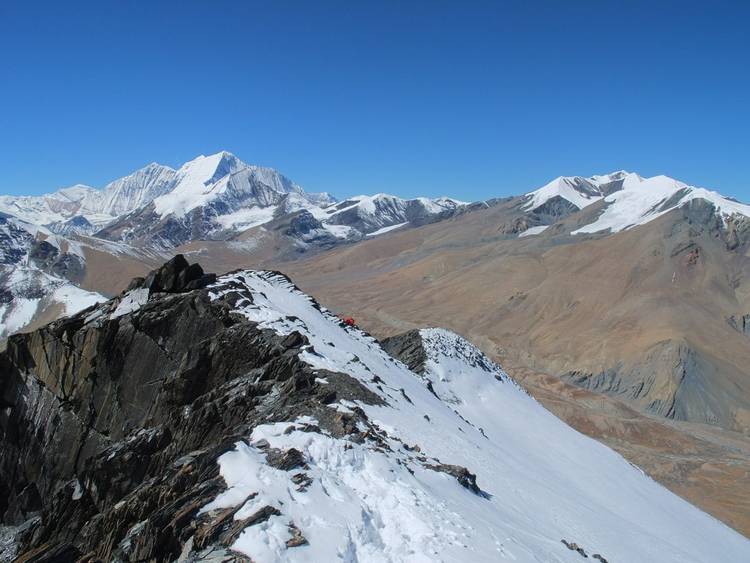 What mountaineering equipment do I need to climb Dhampus Peak?

We have included the kit list for climbing Dhampus Peak in the Trip Dossier for Dhaulagiri Circuit downloadable from our website. You need to bring the following:
Mountaineering boot suitable for 6,000m peak (eg. Scarpa Phantom Guide).

Mountaineering ice axe with leash.

Crampons.

Helmet.

Climbing harness. Plus two 60cm slings, four screw gate carabiners, Figure 8 belay device, and 3m of 5mm static cord for prusiks [we have a limited number of "Harness packs" for rent in Kathmandu]

Jumar ascender (eg. Petzl handled ascender).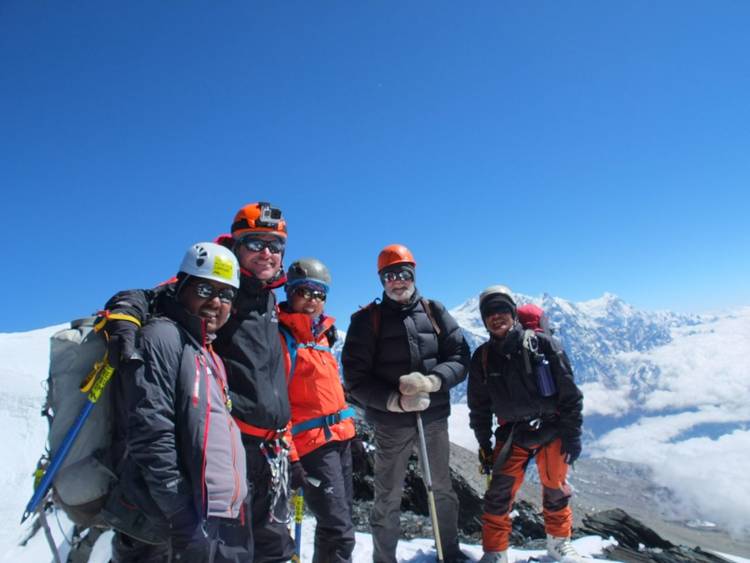 What is the best day walk in Hidden Valley on Dhaulagiri Circuit?
The rest of the Dhaulagiri Circuit trekking group who are not climbing Dhampus Peak will go for a day walk to explore Hidden Valley. Spending time walking in this area is the highlight of this trek. It is a shame that many other groups walk out after only one night due to a lack of acclimatisation. Hidden Valley is a very special place and we recommend you spend time here to enjoy the mountain views and incredible scenery.
In 2010, I spent time on a reconnaissance of the walking options in Hidden Valley. The best walk I found is up a ridge on the North-West side of the valley. Given good conditions, it is possible to get up high and our past groups have reached 5,700m. Take a look at the Dhaulagiri map by Himalayan MapHouse with a scale 1:90,000 (widely available in shops in Kathmandu). To the South-East of Mount Honde Himal (6,556m) there are five unnamed high points above 6,000m. It is in this area that we take our groups for their exploration walk.
After leaving camp in Hidden Valley you have to cross the river. There is a good crossing place where the river is wider and the water is less deep. There are some rocks to hop over to keep your boots dry! After the river, head for the prominent ridgeline by following a rocky trail. The view on the way up to the ridge is very impressive. In fact, the panoramaa is better than from Dhampus Peak as you can see Mount Dhaulagiri over French Pass.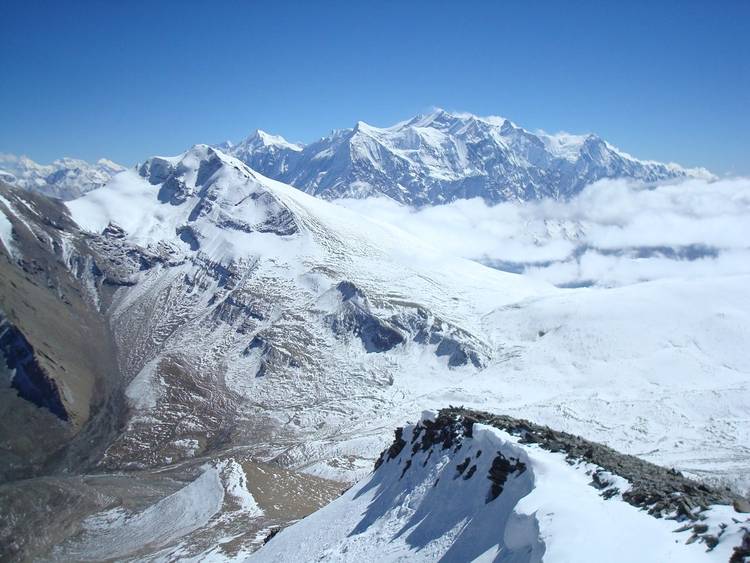 What are the best maps and guidebooks for trekking in the Dhaulagiri region?
Our Conclusion: Is climbing Dhampus Peak worthwhile?

If you are very fit, have winter mountaineering skills, and have the budget then yes it is certainly worthwhile climbing Dhampus Peak. Yet, for most trekkers, completing the Dhaulagiri Circuit trek is more than enough challenge and adventure! In practice, most people including experienced mountaineers decide to do the day walk from Hidden Valley. Exploring Hidden Valley is an exceptional day trekking in the Himalayas. You will not see any other trekkers due to the remoteness and inaccessibility of this area.

We are very happy to organise Dhampus Peak if we have enough people willing to go ahead with the climbing expedition. However, it is important you read this blog to decide whether it is right for you. If your main goal is to go mountaineering in Nepal and climb a 6,000m peak then you might be better off choosing a full expedition. Whereas Dhampus Peak is more of a one-day climb on a trek. Our recommendation would be to look at Saribung Expedition. Take a look at our blog What is the best 6,000m mountain expedition in Nepal?