Details
Trekking in the Annapurna region of Nepal
The Annapurna trekking region is a protected area of Nepal called the Annapurna Conservation Area Project ("ACAP"). ACAP's size is 7,629km2 and this covers a significant part of the Himalayan range in Nepal. This region centres around Mount Annapurna at an altitude of 8,091m and the Annapurna massif of mountains. In the Annapurnas there is a vast network of trails and these are linked together to form many different treks.

There are three main trekking regions of Nepal with tea-house trekking lodges. As you can see from Nepal government statistics from 2018/19 Annapurna receives the most tourists:
Annapurna - 181,746 tourists

Everest - 142,486 tourists

Langtang - 12,132 tourists
It is possible to trek using basic lodges in Manaslu, Makalu, and Kanchenjunga regions too. If you already been trekking in Nepal like Everest Base Camp you will have a very different experience in Annapurna. The geography, history, culture, and landscape differs in each of the trekking regions of Nepal. 
We wrote this article to help you choose your Annapurna treks in Nepal. In this list, we decided to include treks that travel through ACAP at some point within the itinerary. Some of the best treks in Nepal start or finish in the Annapurna trekking region. We have included teahouse lodge treks (Numbers 1 to 4) and also camping treks (Numbers 5 to 7).
Our Managing Director, Roland Hunter, has hiked many of the trekking trails of the Annapurna region. His list of top treks in the Annapurna region is based on his first-hand experience. Our 7 Best Annapurna Treks in Nepal are as follows:
1. Half Annapurna Circuit
Best features of Half Annapurna Circuit trek:
This is a classic trek around Annapurna massif with views of an 8,000m mountain in Nepal.

Challenging day crossing Thorung La high pass at an altitude of 5,416m. The views from the pass are spectacular. We descend to Muktinath in the Mustang region.

By following Natural Annapurna Trekking Trails (NATT) takes you away from jeep tracks and roads.

Visit Manang village where we spend three nights on our trek. We go for exploration walks while acclimatizing to the high altitude before crossing the Thorung La. There are many excellent walks from Manang like Ice Lake above Braga.

Stay at the comfortable tea house lodges of the Annapurna region. There are even bakeries and coffee shops in Manang village!
We recommend Half Annapurna Circuit, often known as Mini Annapurna Circuit if you have limited holiday time. This trek packs in a lot within 17 days from arrival in Nepal. After crossing Thorung La you fly out of Jomsom airstrip to Pokhara. If you have more time then look at Annapurna Circuit at 22 days. The longer itinerary descends Kali Gandaki then ascends to Poon Hill. This is the viewpoint of the seventh highest mountain in the world, Mount Dhaulagiri.
This is what our clients say about this trek:
"My wife and I booked a 3 week holiday including a 2-week trek with The Mountain Company. We flew into Kathmandu and had a fantastic time in the mountains throughout. Our experiences in Nepal were amazing and the country is truly beautiful, along with the wonderful people." Read AITO Traveller's Reviews received for Half Annapurna Circuit.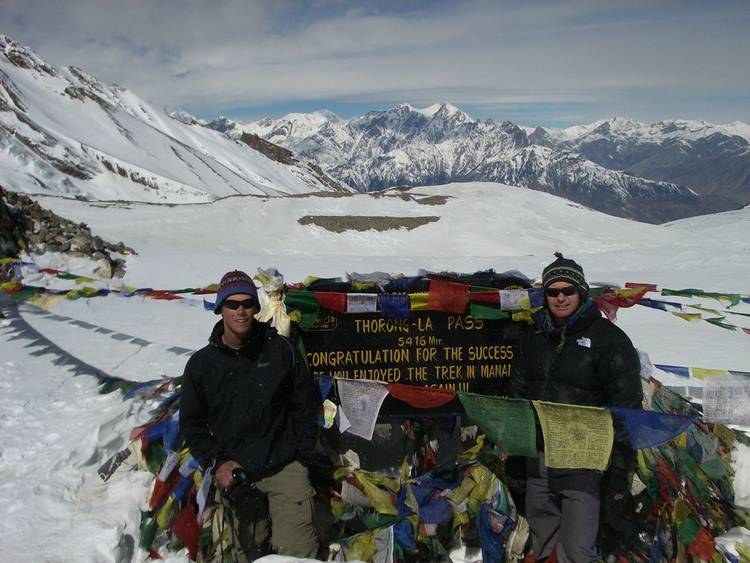 Best features of Kopra Ridge trek:
Kopra Ridge is one of the best viewpoints of the Himalaya range in Nepal. You see Mount Dhaulagiri at a height of 8,167m, Annapurna South, Fang, and Nilgiri.

If you are fit and well acclimatized do the hike up from Kopra Ridge to Kaire Lake at an altitude of 4,665m.

Local communities operate the lodges at Kopra Ridge, Bayeli Kharka, and Upper Chistibung. The profits go towards funding schools such as the one at Swanta village.

Ghandruk is a lovely village where we stay the second night of the trek. Take time to walk around to see the traditional Gurung houses. Enjoy incredible views of the Himalayas.

Swanta village is less visited by trekkers so you will get a friendly welcome and a chance to visit the school.
This is what our clients say about this trek: "Stunning mountain views, remote trails, entertaining guides." Read AITO Traveller's Reviews received for Kopra Ridge.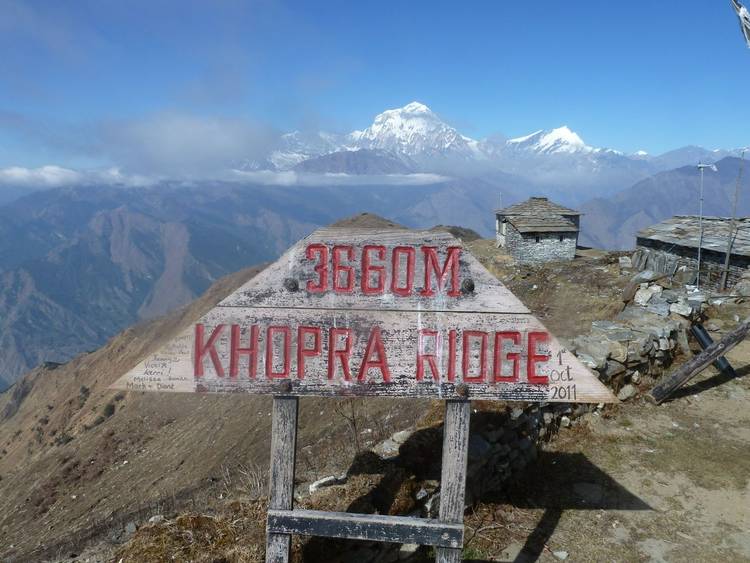 Best features of Mardi Himal trek:
Incredible views of Annapurna Sanctuary from high up the Mardi Himal ridge.

Trekking above High Camp you follow the grassy trail along the ridge to Mardi Himal. You can walk to the Upper Viewpoint and further along if you have time.

Mardi Himal is a circuit trek where you only retrace the same path from High Camp to Low Camp. From there you take a different route down to Siding village for the drive to Pokhara.

This is a short trek of only 6 days. This would be a good choice if you have limited time for your Himalayan walking holiday in Nepal. With Mardi Himal trek you get the elements of classic trekking in the Himalayas. Along the way, you see forests, high alpine zone, mountains, and villages.
This is what our clients say about this trek:
"Difficult to describe the joy trekking in Nepal brings as a life experience. Pictures don't do the majesty of Nepal justice. The Nepalese people are always smiling, welcoming in a way many other countries could learn from. Having used the Mountain Company for each visit to Nepal I wouldn't ever use anyone else." Read AITO Traveller's Reviews received for Mardi Himal.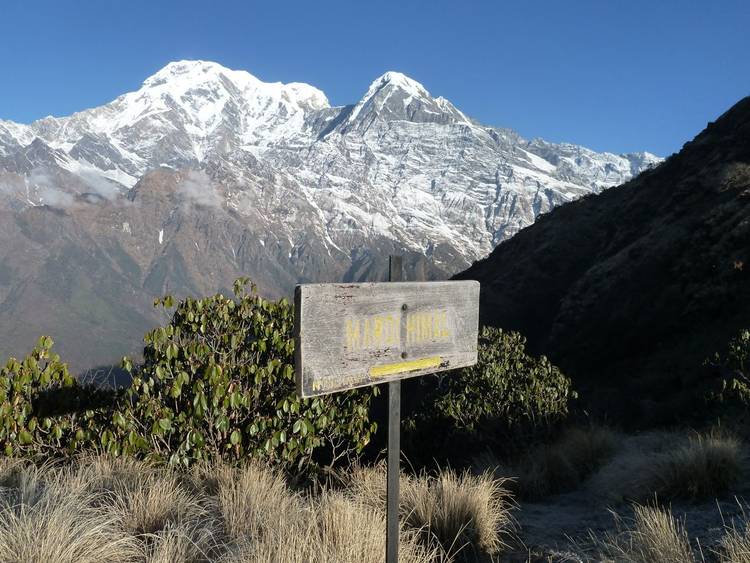 4. Annapurna Luxury Lodge
Best features of Annapurna Luxury Lodge trek:
Excellent views of Annapurna range including Mount Fishtail throughout the trek.

Stay at the higher end lodges operated by Ker & Downey in Nepal. These lodges have superb locations with lovely gardens and mountain views. The rooms have attached bathrooms. You get a high level of comfort and service when staying with Ker & Downey.

This is a short trek at only 6 days and this includes two nights at the Himalaya lodge in Ghandruk. It is possible to tailor this itinerary to reduce the number of days trekking.

This is an easier trek and suitable for people looking for a more relaxed pace.
This is what our clients say about this trek:
"From start to finish the holiday proved a wonderful experience trekking in the Annapurna region of Nepal. Beautiful countryside, amazing scenery, stunning mountain views, and trekking through small local mountain villages. From first thing in the morning when we had our early morning coffees, until the last thing at night.  When we met up with other trekkers and enjoyed happy hour, great food, and company, we loved it. Everyone was extremely friendly and the lodges and staff were excellent." Read AITO Traveller's Reviews received for Annapurna Luxury Lodge.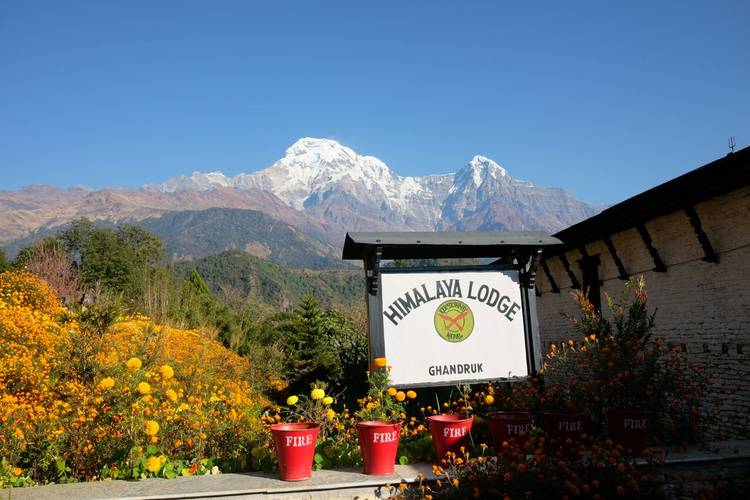 Best features of Lamjung Himal trek:
Lamjung Himal is a camping style trek because there are no tea-house lodges in this area. Our trek crew will set up camp for you with personal and mess tents. Our cooks will serve three meals a day so you can relax and enjoy the experience.

This is a rarely trekked trail and you are unlikely to see other trekking groups along the way. When trekking in Lamjung Himal you have tranquility of the mountains 

See a wonderful cross-section of Nepal from traditional villages to forested trails and higher up into the alpine zone.

There are incredible views of the Himalayas including Lamjung Himal (6,983m), Ganesh Himal (7,422m), and Mt Machapuchare known as Fish Tail (6,997m).

Walk up to Rambrong West Summit at an altitude of 4,384m and enjoy the view of Himalayan mountains.
This is what our clients say about this trek:
"A 9-day camping trek in the foothills of the Himalayas, skirting the Lamjang Himal and Annapurna mountains. Fantastic support from guides, porters, and a wonderful cooking team! I never thought I would be able to walk for 6 days without seeing any other trekkers, staying in high achingly beautiful campsites. We were lucky with the weather and had breathtaking views of Himalayan peaks the whole time. This trek also included camping in a couple of beautiful traditional mountain villages." Read AITO Traveller's Reviews received for Lamjung Himal.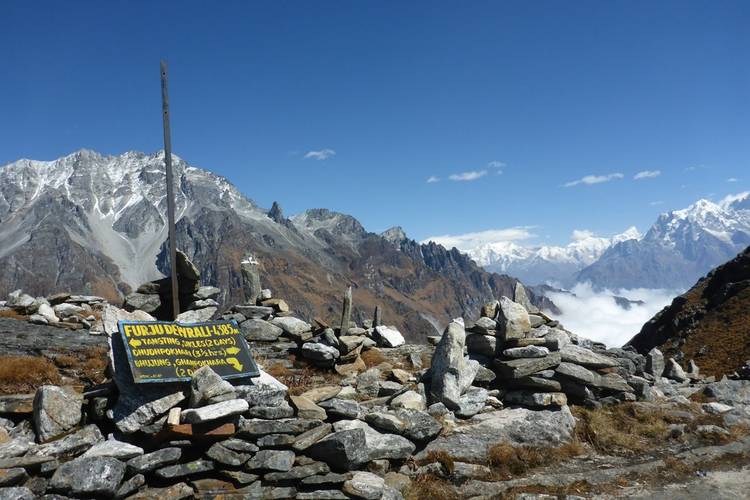 6. Naar to Upper Mustang GHT
Best features Naar to Upper Mustang GHT trek:
Naar to Upper Mustang GHT is a longer trek starting on the Annapurna Circuit trail. On leaving ACAP at Koto we follow a narrow gorge to Phu village.

After Phu village, you enter a remote region in Damodar Himal where you are unlikely to see many trekkers. We follow Lapse Khola river from Phu towards Teri La pass.

Crossing Teri La at 5,595m is a challenging but very rewarding day trekking at high altitude.

This is a camping style trek as there are no tea-house lodges after Phu village.
This is what our clients say about this trek:
"This camping trek is a stunning trek through the different landscapes of Nepal. It really is a trek that keeps on giving. Many treks can lose interest after the high pass crossing however with this trek the interest stayed right until the final day walking - significant scenery and cultural changes every few days: deep river gorges, then glacial valleys, the wind-eroded and arid landscapes of Mustang, then views of big mountains, and the rolling plains of the plateau." Read AITO Traveller's Reviews received for Naar to Upper Mustang GHT.
Best features of Dhaulagiri Circuit trek:
Experience a cross-section of the Nepalese landscape. Starting with villages surrounded by fertile fields then hiking through the sub-tropical forest. Enter the alpine zone at Italian Base Camp and follow a glacier to Dhaulagiri Base Camp.

Cross over two high Himalayan passes over 5,000m and these both have spectacular views! From Dhaulagiri Base Camp we cross French Col at an altitude of 5,360m into Hidden Valley. Next, we cross Dhampus Pass at an altitude of 5,240m into Kali Gandaki valley.

Our Dhaulagiri Circuit trek has two nights of camping in Hidden Valley. It is only possible to camp at 5,000m for an extended period of time due to the slow ascent profile of our trek itinerary. We spend one full day exploring Hidden Valley. The best walk is to the viewpoint on the ridge to the West of Hidden Valley.
Dhaulagiri Circuit is a challenging trek yet an achievable aim for many people. Find out more by reading our Blog called How Hard is Dhaulagiri Circuit trek in Nepal?

This is a camping style trek and due to more complex logistics, this trail sees few other trekking groups.
This is what our clients say about this trek:
"A fantastic trek. It's got everything; terraced hillsides, bamboo woodland, spectacular valleys between even more spectacular mountains, high passes, and glaciers. The only thing it's not got is crowds of other trekkers. This was my first Nepal trip and I will certainly return.." Read AITO Traveller's Reviews received for Dhaulagiri Circuit.
Walking holidays not included in our list of Best Annapurna Treks in Nepal
We did not include Annapurna Base Camp or Upper Mustang treks on our list of top treks in the Annapurnas.
Annapurna Base Camp is very busy in peak season and the lodges are often overcrowded. It is no longer possible to have a private room as these days the lodges provide dormitory accommodation. The rooms can be cramped and you share a room with other trekkers often not in your group. Also, this is an "out and back" trek where you follow the same trail for 4 ½ days from Chomrong to Annapurna Base Camp and then back to Chomrong.
Annapurna Base Camp is still a good trek and the views are impressive of the South face of Annapurna 1. Trekkers still enjoy this trek as long as you are aware of these drawbacks before you go. However, we feel that trekking to Annapurna Base Camp is no longer one of the best Annapurna treks.
Upper Mustang region has been degraded as a trekking destination. This is due to the construction of the road from Jomsom to Lo Manthang. This road now extends to cross the border into China/ Tibet. Driving on the road is now a popular route for motorbike and jeep tours. Mustang is a dry and arid region so is dusty when vehicles pass by.
Trekking in the Annapurna region of Nepal has some of the best high altitude walking holidays in the Himalayas. There is a large number of treks in Annapurna Conservation Area Project ("ACAP"). In this list, we have selected in our opinion the 7 Best Annapurna treks in Nepal. This includes both tea-house lodge and camping style treks. When choosing you should also consider how many days you have for the trip and the grade level of the trekking holiday. If you would like further advice then please contact us to discuss the options, we would be happy to help plan your next trip in Nepal. Trek on!