Details
Trekking in the Upper Dolpo region in Nepal
Upper Dolpo, also called Inner Dolpo, is a very remote region of Nepal. There are other parts in Nepal for remote trekking yet Dolpo remains one of the most isolated places to visit. This is due to the time, cost and difficulty of getting there to start the trek. The restricted area permit is expensive and this means Dolpo gets few other trekkers.
It is important to understand that the District of Dolpa is changing fast like the rest of Nepal.  There are roads currently being built in the region. It will take quite a long time for these to reach the main villages of Inner Dolpo. In this article I will explain the current situation with roads in Dolpa and the timescales involved. People considering a visit here should know about how this might impact the trek now and in the future. 
Our Upper Dolpo to Jomsom GHT trek is camping style. We cross many high passes while visiting a fascinating Tibetan region of Nepal. This is still a superb place to visit for a trekking holiday in the Himalaya and is one of the most remote treks in Nepal. I led our reconnaissance trek with Ade Summers back in 2005. This Blog is based on first hand knowledge and experience. Since then The Mountain Company has organised five successful treks in the region.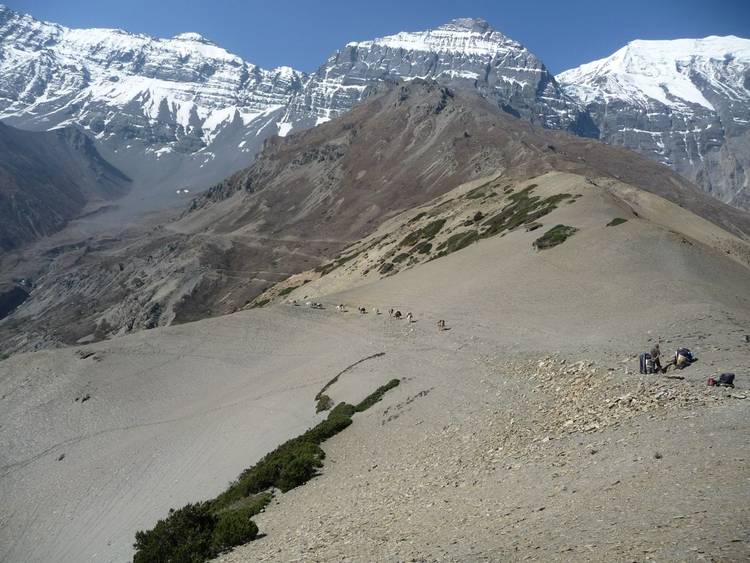 Where is Upper Dolpo in Nepal?
On a map of Nepal you will see Dolpo located in the mid Western region of the country. It extends north of Phoksundo Lake to the border with Tibet. To the East is Annapurna and to the West is Jumla with Rara Lake. It is in the Dolpa District and also in the Shey Phoksundo National Park.
Inner Dolpo is in the Trans Himalaya mountain range located north of the main Himalayas. Other regions in the Trans Himalaya are Karakoram, Ladakh and Zanskar. The two largest mountains near Dolpo are Kanjiroba (6,883m) and Dhaulagiri (8,167m) and these ranges block the rain from penetrating further north. As a result the climate is dry and arid with very cold winters. 
There are Bönpo (shamanistic pre Buddhist) monasteries including the important Shey Gompa. Pilgrims come to walk a religious circuit known as a kora around the nearby Crystal Mountain. The inhabitants of this region are called Dolpo-pa. In the past the Dolpo-pa would carry salt on their yaks from Tibet and sell in the lower regions of Nepal. This trade is depicted in the movie "Himalaya" by Eric Valli. These days the most important trade is harvesting Yarchagompa during the Summer months. This is known as caterpillar fungus and grows in grassy areas at high altitudes. This is sold in China as natural medicine for a high price. For more information on the impact in these regions read BBC article Yarsagumba: Curse of Himalayan Annapurna region
You can click on the map below to see the Google Maps set up for our itinerary.
How do trekking groups travel to Dolpa?
The trek starts from Juphal, also called Dolpa, airport in Lower Dolpo. This is near the District headquarters in the town of Dunai. The scheduled flights to Juphal leave from the city of Nepalganj in the west of Nepal. Nepalganj is at an altitude of 150m and is a very hot and humid place. We use a hotel here with a swimming pool to help you cool down.
The airstrip at Juphal is a STOL ("Short TakeOff and Landing"). Up until 2017 the runway was only grass although now it has been black topped. Like other STOLs in Nepal, such as Lukla, there can be delays and cancellations if there is bad weather. Planes can only operate at this airport with good visibility. Choosing the best time of year is important to reduce the risk of losing days waiting for the flight into Dolpa. Only very recently was Dunai connected by road with this work finishing in 2018. Before then our trek crews had to walk for five days from the road to the south near Surkhet.
After arriving at Juphal airport it takes ten days to walk into the Upper Dolpo region. A restricted area permit is required north of Phoksundo Lake. The trekking trail from Dunai following the Suli Gad river to Phoksundo is through Lower Dolpo.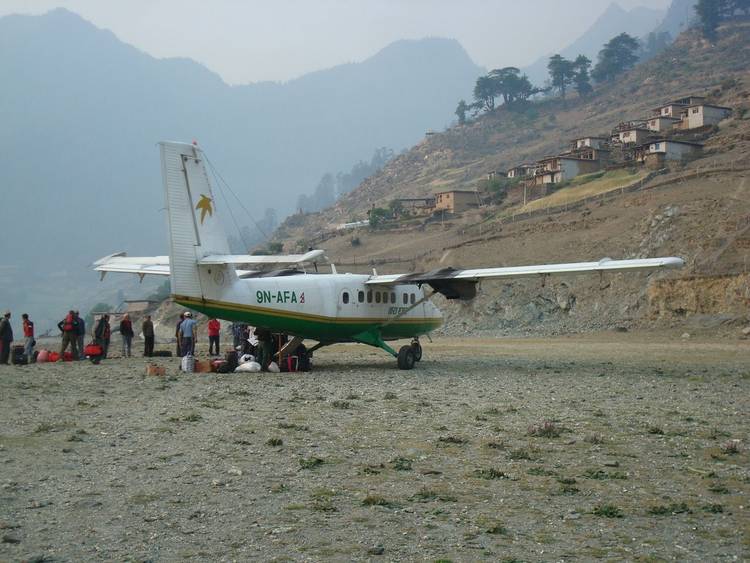 Road construction in Inner Dolpo
As mentioned there is now a road to the town of Dunai in Lower Dolpo. At the moment the road stops at Dunai and does not go further. This means the villages of Inner Dolpo such as Dho Tarap, Shimen, Tinje, Chharka are not connected to the road network of Nepal. But there is a plan in the future to extend the road from Dunai north to these villages. Fortunately the proposed road will not follow the Suli Gad river to Phoksundo Lake. The driving route will go up Tarap Khola to the village of Dho Tarap and luckily this valley is not on our trek itinerary. This is a steep sided valley and it will take time to overcome the engineering challenges. Perhaps Inner Dolpo will be free of jeeps and buses for another 5 years or so?
Over the last few years a jeep track has been constructed through the main spine of villages in Inner Dolpo. The track goes from Mischagaon village in West to Tinje village in the East. At present there is very little traffic as there are no jeeps or buses, only a few motorbikes. This helps locals to travel around to nearby villages. Dolpo-pa drive their motorbikes over the passes north into Tibet on shopping trips. You will see Tibetan and Chinese products in the villages and in some places there is even Lhasa Beer for sale.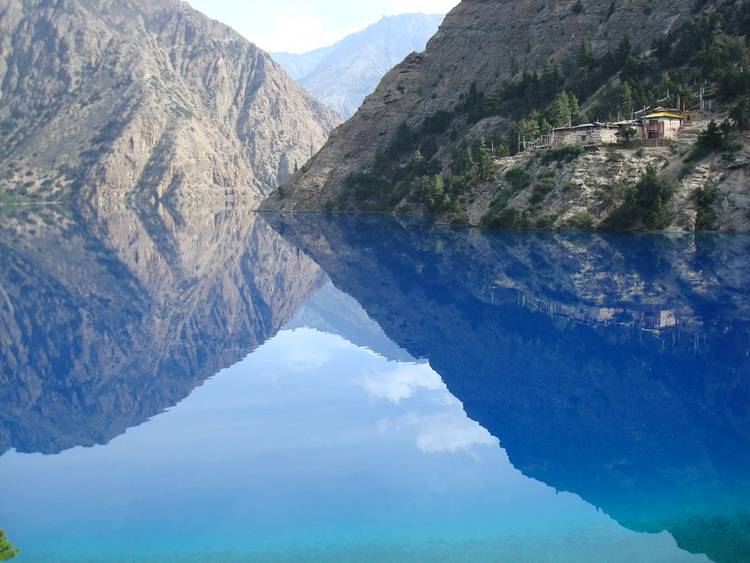 Impact of roads on our Upper Dolpo to Jomsom GHT itinerary
Our Upper Dolpo to Jomsom GHT itinerary is not significantly affected by the roads recently built in Dolpo. In fact the new transport links are helpful for the logistics of this trek. We can now send the group equipment, food and trek crew into Dunai by road. We have spent a lot of effort to research the best itinerary for our Upper Dolpo trek in terms of landscape, culture and remoteness. We follow the very remote Panzang Khola valley where several of our past groups have seen snow leopards.
After one night camping in Dunai we walk along a traditional trail to the beautiful Phoksundo Lake. On our trek we will not see any roads until we arrive at Mischagaon village on Day 17. We walk along sections of this jeep track on Day 17 to 19 from Mischagaon village to Tinje village. After Tinje we continue our trek in a south-east direction away from the populated areas. We do not see a jeep track again until arriving at Sangda village on Day 25. On Day 26 we walk along sections of road on the way to Pangling village. On Day 27 we often travel by bus or jeep down Kali Gandaki to Jomsom to finish the trip as we join the Annapurna Circuit.
When the road has been built from Dunai to Dho Tarap our itinerary will be less affected than others such as the classic Upper Dolpo Circuit trek. We spent a lot of time getting to know Inner Dolpo during our month long reconnaissance trek back in 2005. We choose trails that are very remote and rarely trekked by other groups. While we visit some of the larger villages including Shimen, Tinje and Chharka this only takes 3 days out of 23 days of trekking. Whereas the classic circuit visits Dho Tarap and follows the Tarap khola valley where the new road will be.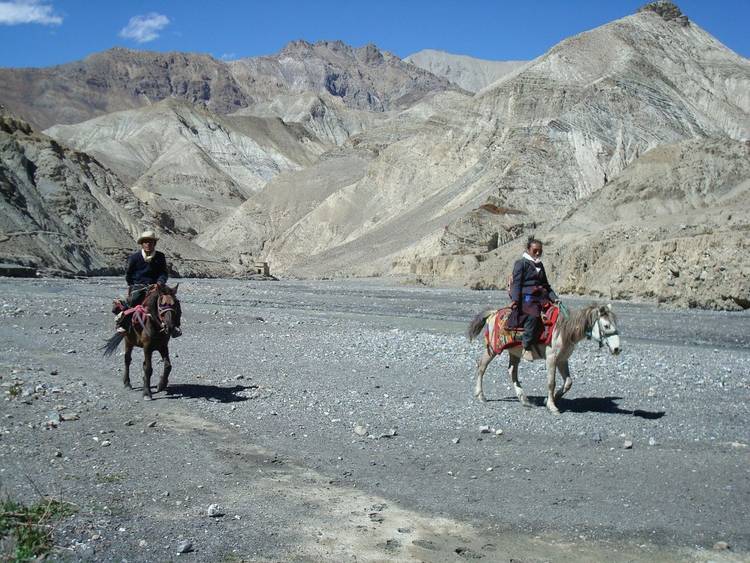 Changing Nepal
Nepal is changing fast. There is an extensive program of road building throughout the country. As a trekking operator we need to keep a close eye on these developments and where necessary adapt our itineraries. Take a look at our Blog as we have written articles about the impact of roads on Annapurna Circuit and in the Everest region.
There is no doubt that the Inner Dolpo region will change with the arrival of the road. We know there are benefits for the local communities with having a road. They will have transport to import food as well as getting sick and injured people out to hospitals. From a trekker's perspective the new roads will impact to some extent the attraction of this region. As discussed the roads will affect our Upper Dolpo trek to a far lesser extent than others. In the future it will be possible for trekking to co-exist with these new transport links. There is unlikely to be much traffic on these roads. But if you have the chance to visit we would recommend you do so within the next five years.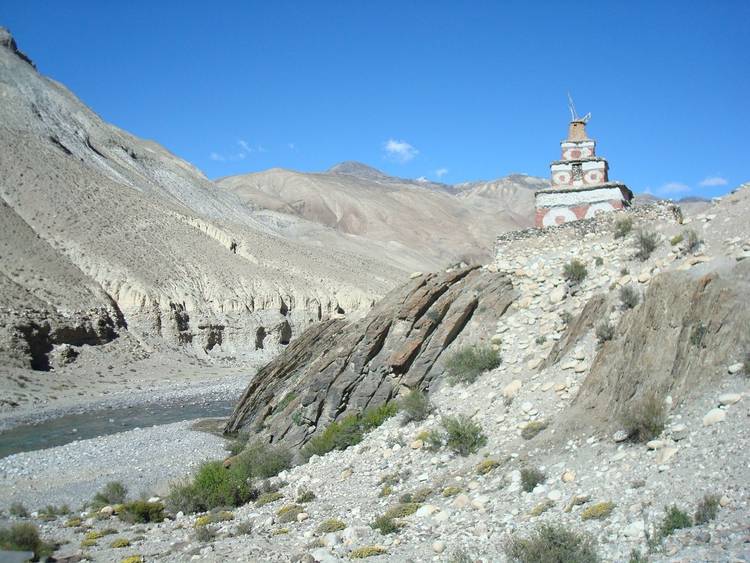 Other remote trekking regions of Nepal
The concept of remoteness is subjective and is relative to other treks. It is a word that is often overused by travel companies trying to sell a trip. We have seen treks to Gokyo lakes described as remote by companies that only sell Everest Base Camp!
At The Mountain Company our passion is camping treks in remote parts of the Himalaya and Karakoram. Over the years we have spent time exploring these places on reconnaissance treks. There are other remote treks along The Great Himalaya Trail (GHT). Such as Section 1 of GHT in the East of Nepal from Kanchenjunga Base Camp to Makalu Base Camp. There are few trekking groups that cross Lumba Sumba pass and walk the section of trail from Hongon village to Makalu Base Camp. Section 2 of GHT from Makalu to Everest is also rarely trekked due to the difficulties of three passes over 6,000m. The last section of GHT in Nepal Far West from Rara lake through Limi valley to Hilsa is another trek that has very few other hikers.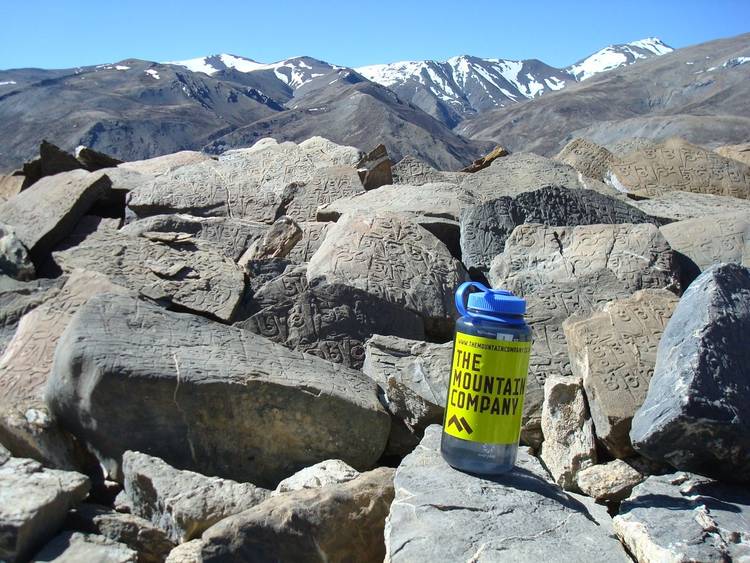 Conclusion
Yes Upper or Inner Dolpo is one the most remote treks in the Nepal Himalaya.  Like travelling to any destination check to find out which trekking places you will visit. There are some trails that are more remote than others even in a remote region like Upper Dolpo! There is no doubt that Dolpo will change in the future with new road building programs in Nepal yet it will still remain an incredible place to explore. There are some itineraries that will be more affected than others. Our Upper Dolpo trek is more "future" proof as will be away from most of the planned roads in this region of Nepal.
You can read AITO Traveller Reviews from our previous Dolpa groups. I have copied some below:

"An incomparable and profound journey into isolation and stunning beauty. A highly challenging trek into Upper Dolpo that denmanded blood, sweat and tears.First class. Clearly a company that delivers what it promises and deals fairly, squarely, honestly and with efficiency with any problems that arise through exemplary leadership. Roland Hunter remains as personable and committed as ever to his clients and company. Almas, Chandra Rai and Jo are highly professional managers and accomplished grass roots troubleshooters!" by Henry, 15 Jun 2018
We organise our Upper Dolpo to Jomsom GHT trek every year in May and October. Please get in touch with us if you are interested in joining one of these groups.

Roland Hunter
The Mountain Company