Details
Is Mera Peak the best 6,000m expedition in Nepal?
Mera Peak has for many years been the traditional choice for mountaineers looking for an achievable 6,000m peak to climb in the Nepal Himalaya. The view from the summit is exceptional and it is one of the finest in the Himalaya where you will see a panoramic view of five 8,000m peaks from Mount Kanchenjunga in the East to Mount Everest at an altitude of 8,848m. 
Since 2008, The Mountain Company has organised ten expedition to climb Mera Peak near the Everest region in Nepal. Out of these trips I have personally led five groups to the summit of Mera Peak and therefore this article is based on my first hand experience climbing this mountain. 
The main drawback of Mera Peak is that over the last few years it is getting increasingly busy with other mountaineering groups. The main reason for this mountain becoming more popular is due to the recent construction of teahouse lodges for the Mera Peak trek both into and out of Base Camp. In the past our itinerary through Pangom - Chalem Kharka - Kote villages was organised in camping style as there were no teahouse lodges along the route. Whereas these days you will stay in a lodge for every night of the expedition apart from two nights while climbing on the mountain. 

After our Mera Peak expedition in November 2017 we received some negative feedback from the group concerning the high number of climbers crowding the route on the mountain and the lack of space for tents in Mera La and High Camp (as well as dirty camps with rubbish and toilet waste). From speaking and discussing further with our clients most of them told us for a climbing expedition they would prefer to be away from the busier routes in Nepal and would like a traditional camping style experience.

The key advantage of a camping trek is that you can access remote areas rather than stay at the often crowded lodges in Everest, Annapurna, Langtang and Manaslu regions. For example another 6,000m mountain called Island Peak is very popular and the climbing route often dangerously overcrowded as many groups like to combine this climb with a lodge based Everest Base Camp trek.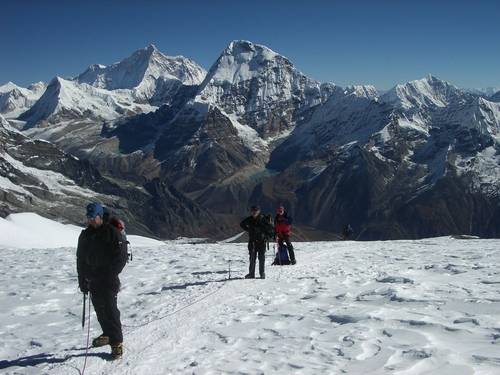 Time to look for a less busy 6,000m mountain in Nepal: how about Mount Saribung?
We decided it was now time to look for another classic 6,000m peak in Nepal at a similar grade and level of difficulty that we could offer our clients as a quieter and less busy alternative to Mera Peak. After a lot of research and time speaking to our climbing guides and leaders we decided that Mount Saribung at an altitude of 6,328m ticked all of the boxes for a really interesting mountaineering objective in a remote and rarely visited area.
Saribung is located in the Damodar Himal and we approach from the starting point of the Annapurna Circuit at Jagat. On the second trekking day we leave the Annapurna Circuit at Chame where we walk up to the isolated village of Phu. At the head of this valley we cross the rarely trekked Saribung La pass (6,042m) to enter the arid Upper Mustang region. The climb of Saribung summit takes about two hours on moderate angled snow slopes from Saribung pass.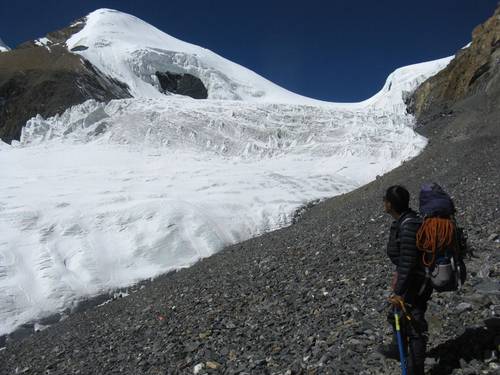 Reconnaissance expedition to Saribung
In late October 2018 we sent our Operations Manager and Trek Leader, Jo Clark, and one of our climbing guides, Galden Sherpa, on a reconnaissance expedition to climb Mount Saribung. To find out how Jo and Galden got on with their recce you can read Jo's Trip Report on our blog.

During the planning for a reconnaissance expedition to Mount Saribung we carefully considered the best itinerary to approach and climb this 6,000m mountain. We noticed that most other operators approach Saribung from the West coming from the Upper Mustang side. We soon realised that the success rate from this side is quite low given the challenges of acclimatising to cross several 5,000m passes early on during the expedition only several days walk from Lo Manthang. There is also a high risk that the passes might be blocked with snow and I am aware of a number of teams having to turn back in Autumn season without even reaching Saribung Base Camp.
Whereas the approach to Saribung from Phu village on the East side of the pass has a more gradual ascent profile as does not cross any passes before the mountain. As a result this itinerary is far better for acclimatisation to the high altitude and increases your chances of climbing to the summit and crossing Saribung La. Another reason for approaching from this side of the mountain is to spend more time in the beautiful Phu valley and camp at the rarely visited Pokharkang Base Camp (5,030m). Very few trekkers explore the valley north of Phu as most of them are heading down the valley having already crossed Saribung La and therefore spend little time in the area. 
You can see our route and campsites used for this itinerary on Google Maps for Saribung Expedition.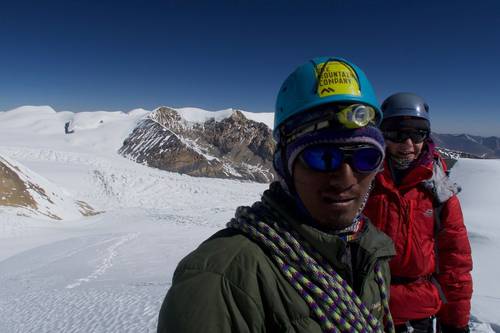 Feedback from our Saribung Expedition in April 2019
After the success of our recce expedition we organised our first commercial group to climb Mount Saribung in April 2019. This group made the summit and then crossed Saribung La over to Upper Mustang. To find out how they got along you can read our Trip Report on our blog. The feedback from the group was very positive and you can read the AITO Traveller reviews for Saribung Expedition. I have copied extracts of AITO Traveller Reviews below:
"This was an exceptional trek up through Manang over the beautiful glacier Saribung and then through Upper Mustang to Lo Mantang before completing the trek in Jomsom. From Koto onward the trek steadily gets more and more remote with absolutely stunning mountain scenery. An outstanding expedition."
"A great trip experiencing a wide variety of Nepali culture from a couple of days on the busy Annapurna circuit to the quieter valleys and the wonderful village of Phu. We then travelled on to the beautiful and remote areas of the pass before returning to Jomsom."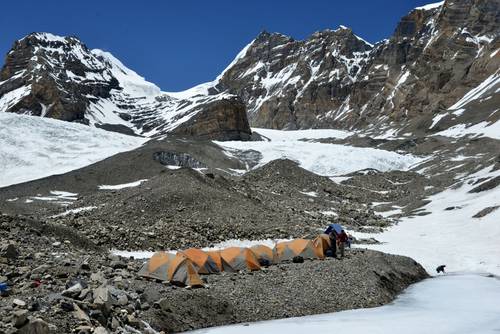 How does the difficulty level of Saribung compare to Mera Peak?
We have given both
Saribung Expedition
and
Mera Peak Expedition
our highest difficulty grade of
Challenging
, therefore, overall they are at a similar difficulty level. These trips would be a suitable objective for people with previous experience of high altitude treks; a high level of fitness and previous mountaineering experience (Scotland, Alps, New Zealand or North America Rockies etc).
 If you do not have this experience then you would need to attend a one week winter mountaineering course to learn the skills required. 
The climbing route on both mountains is mainly on moderate angled snow slopes on glacial ice where rope travel will be used for safety by the group as there are crevasses on the route. 
Personal mountaineering equipment will be required including ice axe, crampons and harness. You can view our kit list on
Saribung Expedition
webpage by looking under Practical Information tab then Clothing and Equipment list.
Our YouTube video from Saribung Expedition in Nepal
Our recommendation
From reviews received and discussions with this experienced group of Himalayan trekkers confirms our view that climbing Saribung Peak is probably the best 6,000m expedition in a remote region of Nepal. Clearly there are many, many 6,000m peaks however from my 20+ years of mountaineering in the Himalaya I believe Saribung Expedition is exceptional and will be an incredible high altitude experience away from the more crowded mountains in Nepal.
We plan to organise Saribung Expedition every year in April and October, please get in touch with us if you are interested in joining one of these groups. 
Trek on!
Roland Hunter
The Mountain Company