Details
Our experience of Dhaulagiri Circuit trek in Nepal
We have organised sixteen Dhaulagiri Circuit
 treks since 2008 and out of these only two groups did not successfully cross the high passes over to Jomsom (due to earthquake in April 2015 and cyclonic storm HudHud in October 2014). I have also personally led groups on Dhaulagiri Circuit in both Spring and Autumn seasons, therefore this blog is based on first hand knowledge and experience.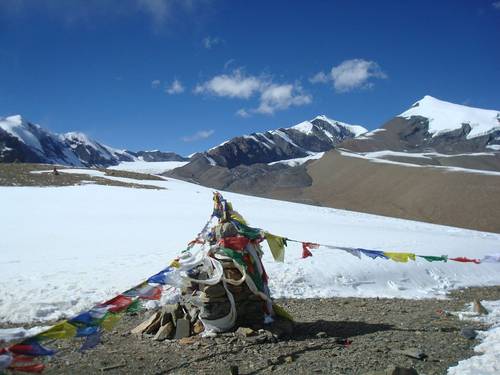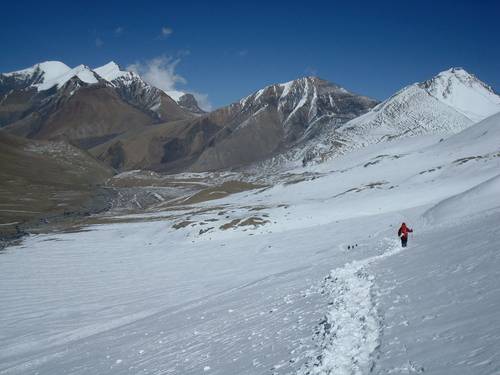 About Dhaulagiri Circuit trek in Nepal
This trek to Dhaulagiri Base Camp is sometimes called Dhaulagiri Round trek or simply the Dhaulagiri trek. Dhaulagiri Circuit is a relatively short trek at 20 days ex Kathmandu compared to other camping style treks in Nepal such as Kanchenjunga Circuit (30 days), Naar to Upper Mustang GHT (24 days) or Upper Dolpo to Jomsom GHT (30 days). Our longest trek is Kanchenjunga Base Camp to Makalu Base Camp GHT (42 days) and Lunana Snowman in Bhutan (34 days). The number of days away on a trek is one factor that contributes to the overall difficulty so these other longer treks will be more physically and mentally tiring than Dhaulagiri Circuit. 

Dhaulagiri Circuit is a camping style trek into a remote region of Nepal Himalaya sound Mount Dhaulagiri at 8,167m. For more information on this mountain range in the Himalayas please read Dhaulagiri massif on Wikipedia. This is a fully supported camping trek with comfortable mess tent and personal tents however you do not get the same level of facilities as experienced on a lodge trek such as to Everest Base Camp or Annapurna Base Camp. As long as you know what to expect on a camping trek and bring the right personal gear (as per our detailed kit lists) it should be an enjoyable experience. Having said that camping in Hidden Valley at 5,000m is always cold with overnight lows down to -12 Celsius and there will be no heaters in the dining room as provided on a lodge based trek.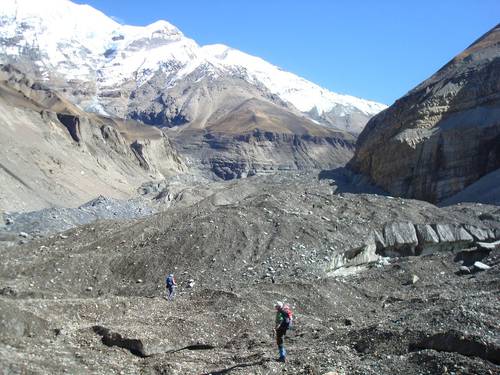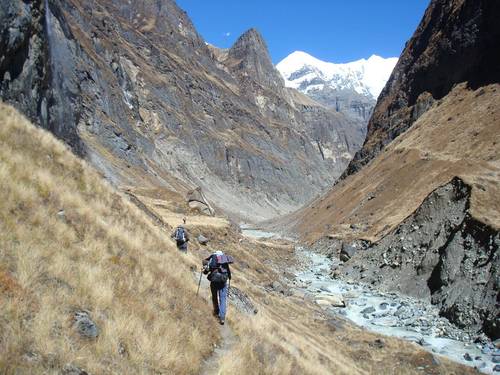 How hard is Dhaulagiri Circuit and what difficulty grade level is this trek?
At The Mountain Company, we have given Dhaulagiri Circuit a difficulty grade level of Strenuous. We have five grades to classify our treks and Strenuous is the fourth most challenging grade in our portfolio of Himalayan trekking holidays. In order to help people choose the right objective we have defined our Strenuous level treks based on four factors: 1) Daily walking times: 2) Maximum Altitude 3) Terrain:4) Remoteness. You can read the descriptions of each grade level on our Trip Grading and Suitability webpage.

Dhaulagiri Circuit has developed a reputation for being one of the most challenging treks in Nepal, however as explained above it is only four out of five on our difficulty scale so there are certainly harder treks in Nepal such as our Challenging/ Grade 5 treks like Makalu to Everest GHT or Kanchenjunga to Makalu GHT. Having said this you should not underestimate Dhaulagiri Circuit trek and as for any high altitude trek in the Himalaya one has to respect the mountains. You need to train for a hard trek like Dhaulagiri and if you book with The Mountain Company we will send our Trekking Fitness training plan to help get fit before departure.
What can go wrong on Dhaulagiri Round trek
Over the years we have seen a number of other groups on the trail that have encountered serious issues when trekking Dhaulagiri Circuit. In almost every case the reason for this is due to poor planning, logistics and organisation or by the guides taking shortcuts to save costs. Quite often these trekkers write up blogs justifying why they were unable to successfully complete the trek and this further enhances the reputation of difficulty of Dhaulagiri Circuit. 

The most common mistake is for trekking groups to ascend to Dhaulagiri Base Camp too quickly and then cross French Pass into Hidden Valley before the group and trek crew are properly acclimatised to the high altitude. If anyone has altitude sickness in Hidden Valley this is a serious situation especially if they are not carrying a satellite phone to call for a helicopter evacuation. It is critical for everyone's safety to have enough days in the Dhaulagiri Circuit trek itinerary to help acclimatisation.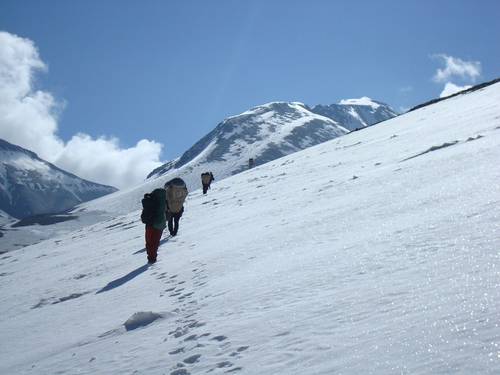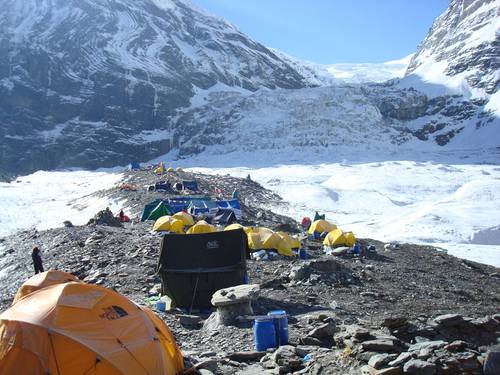 Planning and logistics considerations for Dhaulagiri
I have listed some planning considerations below for Dhaulagiri Circuit trek:

Our itinerary for Dhaulagiri Circuit has 15 trekking days including two nights at Italian Base Camp (3,660m), two nights at Glacier Camp (4,200m) and two nights at Dhaulagiri Base Camp (4,700m).

Make sure you have qualified guides leading your group with previous experience of Dhaulagiri Circuit. We send international leaders working as a team with our Nepalese guides to ensure strong leadership, a high level of medical experience and knowledge of how to follow our standard operating procedures (SOPs). Make sure there are enough guides available to look after the group and what the contingency plans are if a member of the group or trek crew is sick and has to turn back.

Dhaulagiri Circuit is a camping style trek because there are no lodges and shelter available from Italian Base Camp until crossing over the high passes to Yak Kharka, therefore we need to provide the trek crew including the porters with tents and food for 15 days. We also need to give the trek crew with personal gear and equipment suitable for 5,000m and ensure they all have tents for shelter. There are no huts or natural shelter in Hidden Valley.

Obtain weather forecasts for the Dhaulagiri region before you cross French Pass over into Hidden Valley especially in Autumn season when cyclones can impact the Himalaya (eg Cyclone Phailin in October 2013 and Cyclone HudHud in October 2014).

Bring a comprehensive first aid kit plus high altitude medicine, antibiotics and other medicines for the use of the group and trek crew. It is also essential to have a portable altitude chamber (PAC or Gamow bag).

Having a satellite phone is essential for reliable communications regarding logistics, planning and group safety. Make sure you also have GPS in case required to organise a helicopter evacuation as latitude & longitude coordinates are required by the helicopter pilot for a pick up of a casualty.

Bring expedition style tents for shelter as cheaply made tents will not survive high winds often experienced at high altitude. We use Mountain Hardwear Trango 3.1 tents for our groups on Dhaulagiri Circuit.
Our recommendation
Please do not be put off by Dhaulagiri Circuit's challenging reputation as it is certainly one of the best three week treks in Nepal. You will see a diversity of landscape from terraced fields and villages at lower elevations up to the high alpine including glaciers and mountain passes. You can read feedback and reviews from our previous groups on the AITO Travellers Reviews for Dhaulagiri Circuit. I have copied one review below:

"A fantastic trek. It's got everything; terraced hillsides, bamboo woodland, spectacular valleys between even more spectacular mountains, high passes and glaciers. The only thing it's not got are crowds of other trekkers. This was my first Nepal trip and I will certainly return."

If you prefer not to camp and instead stay in lodges while trekking I recommend you take a look at Manaslu Circuit trek where you have good views of Mount Manaslu at an altitude of 8,156m.

Dhaulagiri Circuit would be a suitable objective for experienced long distance hill walkers with a very high level of fitness and having previous experience of high altitude trek would be helpful. If you have any questions about your suitability for Dhaulagiri Circuit trek please get in touch with us and we can provide feedback as well as a training plan to help you get ready and prepared. 
We organise Dhaulagiri Circuit treks every year in April and October, please get in touch with us if you are interested in joining one of these groups.
Trek on!
Roland Hunter
The Mountain Company